Friday, March 1st, 2013
Flyers and Wildcats to battle for district crown
Division IV District at St. Marys
By Gary R. Rasberry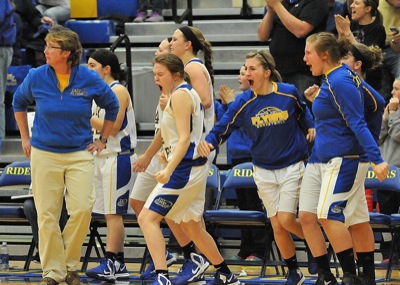 ST. MARYS - It will be an all-Midwest Athletic Conference district final on Saturday as Marion Local and Minster both shrugged off big challenges on Thursday to earn semifinal wins at the Division IV district tournament at Murotech Court in St. Marys.
Marion Local overcame a huge performance by Waynesfield-Goshen's Kaylee Patton to come away with a 61-51 triumph and Minster's duo of Claire Fischer and Bridget Geiger guided the Wildcats to a 42-30 victory over Ada.
Minster and Marion Local will play on Saturday at 7 p.m. for a berth to the Tipp City regional. The last time the two teams faced off in a district final was 2010, when Minster won 54-45 at Lima Senior.
Marion Local 61, Waynesfield-Goshen 51
The game had a déjà vu feel, as the Flyers had to hold off the Tigers 75-70 to win their regular-season matchup in December at Waynesfield.
Patton, Waynesfield's all-time leading scorer for boys or girls, scored 37 points in the first matchup and Thursday's rematch was no different. Patton hit 12-of-29 field goals and 10-of-13 from the free-throw line to score 37 points while adding 12 rebounds.
"That's the second game in a row where we've faced two fantastic players. It's making me grey preparing for them," said Marion Local coach Treva Fortkamp, referring to New Knoxville's Haley Horstman in the sectional final. "You can't take anything away from Patton. She's a nice ballplayer."
Marion Local countered early with Chelsea Winner, who scored nine of the first 10 points for the Flyers.
"Chelsea's a great player. She's the reason why they're at where they're at right now," said Tigers coach Ted Patton. "She's a really nice ballplayer. She does a lot for Marion."
Every time Marion Local began to pull away, the Tigers charged back. After getting down 12-2 early in the first quarter, Waynesfield rallied to take a 21-20 lead midway through the second quarter after a Lidia Turner three-pointer. Marion Local quickly regained the momentum and took a 31-22 lead into halftime.
In the second half, the Tigers made several charges to get back into the game and the Flyers didn't help themselves by hitting just 14-of-29 at the free-throw line.
After the win, Fortkamp could offer some humor in regard to the Flyers' free throw woes.
"That's Kurt Goettemoeller's fault," smiled Fortkamp, referring to the Flyers' boys basketball coach. "They shot 48 percent (actually, 45.8 percent from the line in the sectional semifinal win over Fort Recovery on Tuesday) and we shot 48 percent. There's something contagious going on. I don't know what the virus is, but I'm going in with Lysol (today). There's something that's going to be addressed in the next two days. We're definitely shooting free throws."
Waynesfield's last big push came in the final four minutes of the game as the Tigers cut the deficit to 51-47 at 2:50 mark. Cadence Jacobs' three-pointer put the Flyers back in front by seven points and the Tigers were forced to foul to extend the game. However, Megan Kuether was the wrong person to foul, as she hit four straight free throws in the last 33.9 seconds seal the win for the Flyers.
"Some of our kids made young decisions, but then we turn around and a young kid makes a big shot, like Jacobs," said Fortkamp. "Some girls had good games, some had bad games. Others picked it up and we had a good overall team effort."
"We just didn't have enough energy. We spent a lot of energy on those two runs on playing defense to get back into the game," said coach Patton.
Chelsea Winner had 23 points - matching her total from the first matchup against Waynesfield - while Jacobs added 14 with Kuether scoring 10.
Minster 42, Ada 30
Early on, the Bulldogs worked hard to keep the Wildcats from getting the ball inside to Geiger, who missed all four of her field-goal attempts in the first half.
Fortunately for Minster, Fischer was up to the challenge and hit a trio of three-pointers in the first quarter to help Minster take an 11-6 lead after the opening eight minutes of play.
"We went to Plan A, then B, C, D and E," said Minster coach Nann Stechschulte. "That (Fischer hitting the outside shot) was probably F or G. We finally found something that worked."
Both teams struggled offensively as defense ruled the first half. Minster only scored five points in the second quarter, but held Ada to six points and the Wildcats led 16-12 at halftime.
Ada pulled to as close as 18-17 at the 4:45 mark of the third quarter, but with the Bulldogs forced to extend their defense to stop Minster's perimeter attack, that opened up the post for Geiger, who started getting some open looks in the paint.
"We opened it up a little bit," said Stechschulte. "We were able to get Bridget cutting to the hole, and that opened things up. Luckily, Claire was hot because Bridget had nothing (held scoreless in the first half). Then in the second half we were able to open it up."
Minster's 7-2 run to start the fourth quarter finally broke the game open and the Wildcats led 35-22 with 4:40 on the clock.
Fischer finished 4-of-7 from behind the three-point line and scored a game-high 17 points while Geiger scored eight of her 12 points in the fourth quarter.
Taylor Willeke led Ada with 13 points.
"We knew their main scorers were 14 (Willeke) and 32 (Tori Wyss)," said Stechschulte. "(Willeke) is a nice player. We put her on the line too much (13 points), but held Wyss to four, so I'll take it. I was happy defensively."
TICKETS - Marion Local and Minster will be selling tickets for Saturday's district final.
Marion Local's tickets are available from 8-9:30 a.m. on Saturday in the high school office and Minster will sell until 4 p.m. today and from 10-11 a.m. on Saturday in the high school.