Wednesday, March 13th, 2013
Mariners moving to Montgomery Field
By Ryan Hines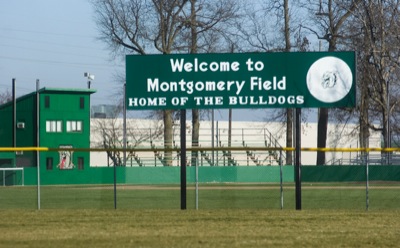 The Grand Lake Mariners will no longer call Jim Hoess Field its home for summer baseball.
Urged by other members of the Great Lakes Summer Collegiate League, the Mariners are leaving Westview Park to play their home games at Eastview Park's Montgomery Field.
"There was a lot of pressure from the league about upgrading our facilities," said Grand Lake Mariners general manager Mike Goldschmidt. "There were concerns about the lighting and the infield at Westview and the league wanted us out of Westview and into a better site."
Montgomery Field gives the Mariners an opportunity to play on an infield that is astroturf, which will limit rainout possibilities and field maintenance.
"When the team arrives in June, we won't have to be picking up rocks off the infield and quickly try to get the field into playable conditions. It just gives us a better surface to play on," said Goldschmidt. "I don't think that we had the worst field in the league, but it needed upgraded. The league concerns kind of set the process in motion."
Before making the switch to Montgomery Field, the Mariners organization wanted to make sure it wouldn't affect the Celina high school varsity, Celina ACME, the Wright State University-Lake Campus or any other youth baseball teams that also use the field.
"The biggest thing on our end is that we didn't want to come in and be perceived as just taking over the field," said Goldschmidt. "We had numerous conversations with those involved with using the field and we will avoid any scheduling conflicts. It has been a group effort to make this happen."
In addition to the astroturf infield, Goldschmidt also feels that the location of the field will improve attendance and provide a better baseball atmosphere for the fans and players.
"We are extremely excited to be able to play there," said Goldschmidt. "We think that attendance will improve with the central location of the field and we are just trying to provide the best possible baseball experience for the players and the fans that love baseball in this area."
Upgrades to the seating area, dugouts, press box and concession stand at Eastview Park are also under consideration.