Thursday, March 14th, 2013
Manure to fly as winter ban ends
Plentiful supply of stored waste for area fields
By Nancy Allen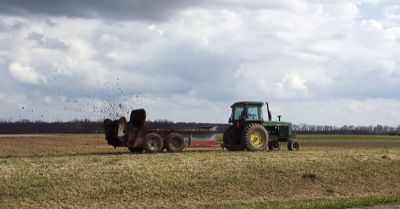 GRAND LAKE - "The smell of spring is in the air" may have a whole new meaning this year.
A 42-day manure spreading ban that recently ended may result in more manure than usual being applied at once in the Grand Lake area.
A state agriculture engineer says he's optimistic farmers will do it correctly.
"Needles to say, if you eliminate manure hauling for (that length of time) when you typically had it, there is going to be more in storage coming into March than there typically would be," Terry Mescher said. "That said, we also have a heightened awareness of what the regulations are, and I am optimistic when guys do start applying, we will have appropriate setbacks and rates."
Manure application was prohibited from Jan. 19 through March 1 unless a farmer received special permission from the state. The ban is part of new manure rules farmers must follow because the state designated the watershed distressed after humans and animals were sickened by algae toxins in the lake in 2010. This time of the year is prone to snow and frozen ground, conditions that can result in manure running off if it's applied.
Future ban dates will be Dec. 15 through March 1.
The ban was phased in over two years, during which time farmers were told to follow rules such as avoiding applying manure to frozen and/or snow-covered ground, abiding setbacks and taking other precautions.
Mescher said he worries farmers will be challenged to get manure applied before spring planting due to the shorter time frame.
"My biggest concern is trying to apply manure going into early spring because of the amount of rainfall we typically get," he said. "It's going to be a challenge because the ground condition is not going to be the most favorable for manure application and storage could get full."
Two watershed farmers agree.
Maria Stein farmer Ted Heitkamp said it's a crapshoot every year trying to predict Mother Nature. Manure applications have to be planned around rain and saturated soil conditions.
"You tell me what the weather is going to do, and I will answer that," he said of whether he would get his manure applied. "At the end of March last year, it was 70 degrees and you could get in the fields; this year it doesn't look like that's going to happen."
Heitkamp said he may have a sanitation company take some of his manure if he can't get into his wet fields.
He worries some farmers may try to enter their fields too early, which can cause soil compaction and damage ground for growing crops.
Chickasaw farmer Bart Homan said it's always a challenge working against the weather.
He believes there were times during the ban when manure could have been applied without causing runoff. His land containing winter cover crops and bordered by filter strips would have been suitable for manure in February, he said.
"To me that was suitable land, and according to our former OSU Extension agent, it was suitable, but the rules and the (ban) dates didn't allow it," he said.
Homan said he hauled his manure out of the watershed.
He also told of another farmer who planned to apply hog manure last fall, but the business that pumps out manure was so busy with other work it didn't get that farmer's job done before the ban became effective. The farmer had to have his manure hauled away by a local sanitation company.
Homan called the experience disappointing.
"I'm in favor of all these efforts to clean this stuff up," Homan said, adding that he's built additional manure storage and exported manure. "The biggest thing I don't like is not being able to haul in the winter."
Mescher said the state this year denied several requests by watershed farmers to apply manure in February. The main reasons were farmers were suppose to have 120 days of manure storage as of Dec. 1 and there were no extreme storms that would have prohibited them from applying manure in the fall.
The exception would have been for farmers who had storage overflow issues caused by rain, Mescher said. None did.