Thursday, March 7th, 2013
Indians, Rangers played a classic in 1993 tourney
Last Curtain Call
By Robb Hemmelgarn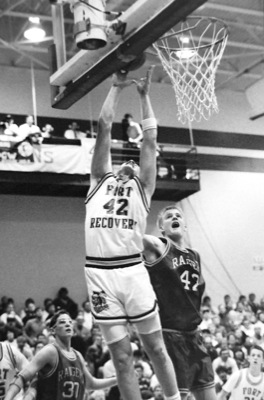 Twenty years ago, New Knoxville and Fort Recovery had two of the top boys basketball teams in Division IV.
After they both had slashed their way through the sectional tournament, they bumped into one another in district play at Wapakoneta for their second meeting of the year.
"We knew we had a lot of tools to hopefully make a good run in the tournament, but as always we also knew it would be difficult to get out of this area," commented former Indian Doug Bihn, who was a two-time first team All-Midwest Athletic Conference performer in 1992 and in 1993. "A lot of our success that season in going 8-0 in the conference and winning the title had to do with having a very deep bench and five guys in the lineup that could drop 20 points on any given night. We averaged about 6-4 or 6-5 down low, so that also made it difficult for teams to defend."
Most teams' game plan against New Knoxville revolved around disrupting Evan Eschmeyer, the Rangers' 6-11 center that averaged nearly 30 points per game and was crowned as the MAC's Player of the Year for the second season in a row. The Indians countered with five players who received All-MAC accolades.
"When we played during the regular season, we tried to stick two guys on Eschmeyer, and he still had a lot of success," recalled former Fort Recovery head coach Jeff Roessner. "We took a different approach in tournament and focused more on the other guys. Ron Reineke was an outstanding player, but he was more our height so we concentrated our efforts on containing him and the rest of the team."
Aided by a couple of three-pointers from junior Bob Leverette in the opening minutes, the Indians led 19-14 at the end of the first quarter. In the second quarter Fort Recovery pushed its lead to as many as 11 points before the Rangers trimmed the deficit to five points by halftime.
"New Knoxville was a really good team, so we knew them making a run at some point was going to happen," remarked Bihn. "We just hoped that if they did that, we could take care of the ball and do what we could to keep the clock running."
The Indians used a 10-3 spurt in the third quarter to hold a 60-47 advantage with just eight minutes remaining in the game. For the most part, the Indians kept the Rangers at bay throughout the entire final period and led 70-58 with 1:50 to play.
"As a coach, I guess I was never satisfied with a lead no matter how favorable it looked for us," explained Roessner. "We held a comfortable advantage for much of that game, so I never really felt panicked. Near the end though, I had this strange feeling that the game was far from over even though we were up a considerable amount."
Suddenly, New Knoxville showed signs of life with a 10-2 spurt that cut its deficit to four points with around a minute remaining in the game. Fort Recovery responded by scoring six points at the charity stripe over the ensuing 30 seconds and quickly enjoyed a 78-70 lead. With seven seconds remaining, Eschmeyer delivered a gym-rocking dunk that not only cut his team's deficit to six points but also shattered the backboard.
With glass littered all over the court, the officials immediately conferred and decided the game was over and Fort Recovery marched on with a six-point victory.
"That was a crazy play," laughed Roessner. "Eschmeyer was ready for the outlet pass and we got a hand on it, only it went straight back to Evan. He raced down the court and I screamed at Doug (Bihn) not to foul. Eschmeyer went straight to the rim and brought it all down. Doug was all cut up as we just sort of watched with amazement."
New Knoxville head coach Brian Stetler, now the girls head coach at Celina, commented immediately afterward that it would never be a loss for them, only an unfinished game. Eschmeyer would have liked to have had one final opportunity in the end as well.
"It is definitely not a slight to Fort Recovery, but that was a game that we all felt we should have won," said Eschmeyer, who in 1993 was named the state's D-IV Co-Player of the Year. "Fort Recovery was a great team with some very, very good athletes, but back then in the moment, we went out and prepared everyday like we were capable of beating anyone. If we didn't expect to win, why play the game?"
Mark Bruns led the Indians with 20 points and eight rebounds, Leverette added 18 points and Doug Bihn and Bill Lennartz contributed 14 and 13 points. Eschmeyer led all scorers in his final game as a Ranger with 30 points and 11 rebounds, while Ron Reineke added 18 points.
"Every now and then I have someone tell me they still have a piece of the backboard from that game," said Eschmeyer, who went on to be an All-Big Ten performer and played in the NBA. "While the ending certainly created a dramatic visual, the only thing I think about from that game was that it was my last in a Ranger uniform and the horrible, horrible feeling I had after we lost. There has been a lot of life to happen since back then though. While it is nice to think back to those days, New Knoxville has been fortunate to have endured a lot of success since then and it is a tradition with which I am glad I was involved."