Wednesday, April 3rd, 2013
Celina blows out Minster in opener
By Mark Ruschau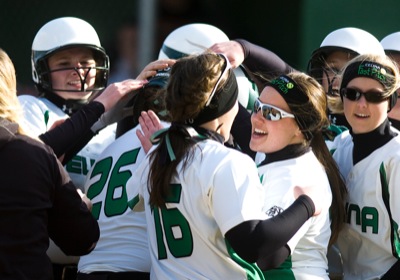 CELINA - The Celina softball team debunked one softball myth in their season opener on Tuesday afternoon at Eastview Park - the one that states pitchers are ahead of batters early in the season - as the Bulldogs pounded out 18 hits to defeat Minster 14-0 in a five-inning matchup between two of the premier programs in the Grand Lake area.
Eight of the nine Bulldogs (1-0) in the line up had at least one hit and seven of the hits went for extra bases, including three home runs by Alexis Zacharias, Leah Rose and Shelby Barga.
Headlining the offense were Zacharias and Kylee Bader. Zacharias had two hits, both for extra bases and drove in three runs while Bader chipped in three hits, including two doubles, and drove in three runs.
Freshman Calie Vogel made a big offensive splash in her varsity debut with two hits and three RBI.
"The girls have been disappointed with their performance the last couple of years against Minster and we knew that we had to come out of the chute fast against Kayla (Richard) and we were able to get off to a good start by scoring in the first couple of innings," said Celina coach Nicole Driggs. "It was the first game of the season for both of us and we wanted to perform well offensively because then things usually take care of themselves."
In the other dugout, Minster coach Scott Robinson was impressed with Bulldogs' offensive display.
"We were in a hole from the time we left the bus this afternoon," said Robinson. "Celina is a good ball club. They came out here this afternoon ready to play. I enjoyed watching them hit today.
"They just hit the ball well all day," continued Robinson. "We pitched one, two, sometimes three pitches off the plate and they just continued to hit the ball to rightfield with power. They just kept their hands back, waited and hit the ball."
Bader took advantage of the massive run support and went out and pitched a gem with a four-hit shutout over Minster's potent offense which returned nine players from a team that pounded out over 300 hits last season. Bader had great command as she walked just one batter and struck out six.
"I was very pleased with the way Kylee pitched today," said Driggs. "She hit her spots very well, she got ahead in the count and she mixed her pitchers real well. Kylee is an off-speed pitcher and she does a very good job at it. She contained the game today, she was a senior on the mound today."
Celina hits the road on Thursday to take on county rival Parkway in Rockford while Minster travels to Waynesfield.