Monday, April 8th, 2013
Celina fire damages apartments, businesses
Two taken to hospital for smoke inhalation; C-Town Wings closes temporarily
By William Kincaid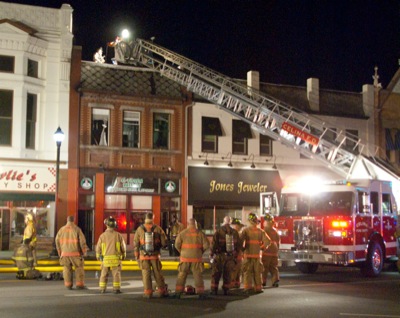 CELINA - A late night fire blazed through the top floor of a downtown building, resulting in a heavily damaged apartment and smoke and water damage to a couple Main Street businesses.
No one was seriously injured during the Sunday night fire at 107 S. Main St., but two occupants on the second floor were taken by emergency squad to Mercer County Community Hospital, Coldwater, for smoke inhalation, Celina Fire Department Lt. Bob Schulte said this morning.
One of the occupants called Mercer County Dispatch at 11:56 p.m. to report flames in one of the two apartments above C-Town Wings Restaurant. The fire started in the back apartment of the second floor, with smoke blowing out the back windows.
Celina firefighters, assisted with crews from Montezuma and Coldwater, had the blaze under control in about 45 minutes, Schulte said.
Each of the two neighboring fire departments brought two trucks while the Celina fire department deployed its pumper-tanker and aerial truck. In addition to blasting water on the flames, firefighters used saws to open sections of the building's roof to allow heat and smoke to escape.
"Nothing suspicious at this point," Schulte said at the scene early this morning, noting officials from the state fire marshall's office were scheduled to arrive today.
Schulte said the back apartment is completely gutted while the front apartment on the second floor has smoke damage.
Kerry and Julia Roberts, who own the building that also houses their C-Town Wings business, were cleaning out the inside of the restaurant that was strewn with water this morning.
"It's not as bad as we thought it was going to be," she said. "It's just a big mess."
The couple are waiting for their insurance company to arrive and assess the building before they take the next step.
"We're going to get open as soon as we can," she said.
All three apartment occupants displaced by the fire are safe and have a place to stay for now, she added.
Charlie's Pastry Shop next door also experienced some smoke damage but should be open on Tuesday, proprietor Eric Smith said. The shop is closed on Mondays.