Tuesday, April 16th, 2013
Celina man finishes race before blasts
By William Kincaid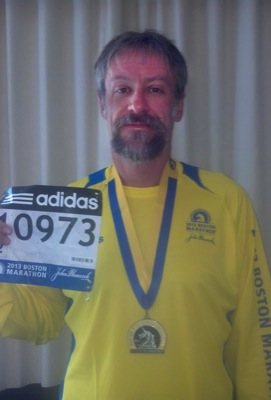 BOSTON - The dream culmination of a Celina man's physical odyssey from obesity to wellness nearly turned into a nightmare Monday afternoon at the Boston Marathon.
Bill Roy - runner number 10973 - crossed the finish line of the 26.2-mile race near the John Hancock Tower in Copley Square just 15 to 25 minutes before two bombs exploded, killing three people and injuring more than 140.
"It was pretty loud," he told the newspaper Monday afternoon from the safety of his hotel. "It didn't rock the ground - it was way bigger (sounding) than gunshots. It gave me an uneasy feeling ... you knew something wasn't right."
Roy, 48, was sitting on a curb a few blocks from the finish line eating with his wife, Jill, and daughter, Jessica Ahrns, when he heard the boom.
His wife initially thought the commotion was related to a Red Sox baseball game letting out. She soon became uneasy, and the family began to walk away from the scene when ambulances began blasting toward the finish line.
"You knew something wasn't the way it should be," he said.
Roy couldn't smell anything or see smoke due to surrounding buildings. The family continued to walk away from the scene but heard others talk about bombs and explosions.
His wife described seeing race volunteers crying and dashing toward the site of the explosions with wheelchairs for victims
"We just saw all the helicopters immediately," she said.
Passers-by were somber and people were coming out of office buildings trying to get a phone signal. Overall, people remained calm evacuating the area, Roy said.
The subway was shut down and the family tried to walk in the right direction to their hotel; they had never been to Boston and they were disoriented.
Roy said in addition to the 27,000 runners and their families, many Bostonians were out celebrating Patriot's Day, a Massachusetts holiday commemorating the Battles of Lexington and Concord.
The Roys recalled being worried about their son, Jared Ahrns, getting hurt while stationed in Afghanistan. It's crazy they were having those worries while being in a city for a marathon, he said.
"It's just terrible," Roy said. "It's every runner's dream to compete at the Boston Marathon."
The family had planned to stay in Boston for the week to enjoy the city and attend a Boston Celtics game. Monday night they were considering coming home early.
Prior to news of the tragedy, Roy said he was pleased with the result of his run - 3 hours, 33 minutes. He became eligible for the race after achieving a qualifying time at the Columbus Marathon in 2011.
"It was pretty tough," he said about the race on Monday, noting that he had injured his foot earlier in the winter and wasn't able to train as much as he wanted. "The hills are just crazy. We don't have those kinds of hills in Mercer County."
Roy, who works at General Aluminum Manufacturing in Wapakoneta, began running in 2008 after deciding to change the course of his life - he was overweight, not eating right and drinking too much beer.
He began running on a treadmill and playing racquetball before working his way up to local 5Ks and longer races. He eventually dropped 100 pounds to his current weight of 185.