Friday, April 19th, 2013
Sheriff says fatal shooting was justified
Grey recommends case be presented to grand jury
By William Kincaid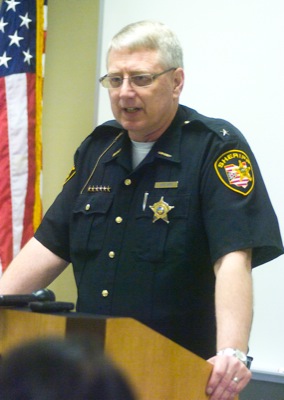 CELINA - Mercer County Sheriff Jeff Grey will recommend the police-involved shooting and death of an armed, 39-year-old St. Marys man in Celina on April 10 be presented to a grand jury to determine if any charges should be pressed against the officer.
Grey believes Celina Patrolman Andy Regedanz, 33, was justified in using deadly force against Robert Hensley at Lakeshore Auto Sales.
"I am recommending to the (Mercer County) prosecutor that after he reviews the case, since there was a loss of life, that the case be presented to a grand jury," Grey said during a press conference this morning. "I'm not recommending that because I think there was a violation of the law. I'm recommending that because I think it's the right thing to do, and law enforcement officers, we work for the public; we don't work for the prosecutor, we don't work for the court, we work for the people"
After 911 calls were made around 12:38 p.m. about a man walking and twirling a gun on East Livingston Street, Regedanz located Hensley in the parking lot of the auto dealership at 12:46 p.m. Within less than a minute, Regedanz got out of his car, fired two shots at Hensley and called for EMS, Grey said.
"The investigation of the shooting revealed that when officer Regedanz approached, Hensley had his back to Regedanz," Grey said. "They were approximately 12 feet apart. Regedanz had his hand on his gun, and he shouted commands at Hensley to stop and show his hands.
Hensley stated he was packing," Grey continued. "He draws his .22 caliber revolver with his left hand from a holster that was clipped in his right pocket, so it was like a cross-draw. Hensley then turned aggressively to his left, bringing his gun around toward officer Regedanz."
Regedanz then fired two shots from his .40 caliber firearm at Hensley; one bullet struck his left arm between his elbow and shoulder and another bullet struck his shoulder blade.
"The angle of entry of both shots is consistent with the statements that Hensley was turning toward Regedanz," Grey said. "Hensley dropped his gun, and it was located near the body."
Hensley's revolver was not loaded at the time of the incident, Grey said.
"Hensley's firearm had two spent rounds in the cylinder, the other four chambers were empty," Grey said. "It is unknown where those two rounds were discharged, but those two rounds were not discharged during this incident. They possibly were discharged when he was on the range at Kremer's (gun shop, earlier in the morning) ,but they were not fired during the incident."
Toxicology reports from Hensley's autopsy, which are expected in several weeks, may help investigators understand why Hensley was acting in an unusual behavior, Grey said. Hensley went into McDonald's without a shirt between 11:09 to 11:14 a.m., time that was mostly spent in the bathroom, Grey said.
"(Hensley) had been exhibiting unusual behavior recently, including hearing voices," Grey said. "His family considered asking police to intervene so he could get help."
Hensley was at Kremer's between 10:03 to 10:35 a.m. looking at firearms and using the shooting range, Grey said. He tried to leave, but his car wouldn't start.
He also spent time at the Eagles, between 11:20 a.m. and 12:22 p.m., where he ate a meal, drank a beer, played a game of pool and tried to leave without paying his bill, Grey said.
"But (toxicology reports) have no bearing on whether ... the shooting was legally justified," Grey said. "It's important for everyone to know that the sheriff's office responsibility in this case was to gather the facts and come to a conclusion as to whether it was legally justified. My conclusion and opinion is that officer Regedanz was in fear for his life and the other people around him. As with any other person, officer Regedanz has the right to defend himself, but he has the duty to protect the other people. He has a duty to respond."
The gun Hensley possessed during the incident was purchased at Big Bucks Firearms on March 18, 2013, Grey said.
"His record does not reflect anything that would disqualify him from purchasing a firearm," Grey said. "So it was a legal purchase."
Regedanz's background with the city did not factor in the investigation, Grey said.
"Anything that happened before or after has no bearing on whether the shooting was justified or not," Grey said. "Those things would be an internal duty of Celina process."
Regedanz in late January was placed on administrative leave for failure of good behavior and neglect of duty stemming from mishandling of evidence and harassment of people connected to his estranged wife. He was ordered to undergo a psychological evaluation, which found no evidence of behavior problems or possible risks that would impair Regedanz's performance as a police officer.
Hensley, who had a criminal record in Auglaize County, worked as a maintenance man for a company contracted with Kmart in St. Marys. He had recently taken a two-week leave of absence, the store manager told the newspaper for an earlier story.
The investigation included 33 interviews, including one with Regedanz and four with citizens who were eye-witnesses, Grey said.
"Officer Regedanz had a split second to make a decision, and he didn't have the benefit of knowing everything that we took nine days to learn," Grey said.