Tuesday, April 23rd, 2013
Cavs break tie in fifth and roll past Bulldogs
By Gary R. Rasberry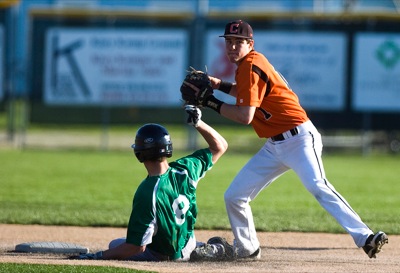 CELINA - Coldwater's baseball team took advantage of Celina's sloppy play and the Cavs pulled away to beat the Bulldogs 12-4 on Monday afternoon at Montgomery Field in Celina.
After Coldwater (10-2) scored two runs in the first and added another in the top of the fourth, Celina (10-5) worked its way back into contention. The Bulldogs scored twice in the bottom of the fourth on an RBI double by Aric Fickert and an RBI groundout by Adam Fickert to tie the game at 3-all.
"Being a Monday with an off-day yesterday and playing a good team in Celina, for us to get two in the first gave us a little comfort," said Cavaliers coach Brian Harlamert. "They got (one) back (in the bottom on the first), but you saw two good teams playing for the most part."
Coldwater wasted no time striking back. Brody Hoying was plunked by Riley Luebke for the second of what would be three times in the game to start the fifth inning. After Hoying stole second and advanced to third on a groundout, Malave Bettinger blooped a single to centerfield to break the tie. Mitch Heyne then singled in Mitch Schoenherr, who was pinch-running for Bettinger, to give the Cavs a 5-3 lead.
The Cavs then broke the game open in the sixth inning by sending 10 batters to the plate and scoring six runs, aided by three Celina errors. Heyne ripped a two-run triple to highlight the offensive outburst.
"I thought when it was 5-3, we were still in the game," said Celina coach Drew Braun. "Then we give up a six-run inning. I didn't think we played good, defensively wise. We weren't really smart."
An 11-3 lead was more than enough run support for Cavaliers pitcher Grant Muhlenkamp, who improved to 3-0 this spring with a complete-game win. The junior walked just two and scattered seven hits while striking out four.
"He just came with two good pitches: fastball and change-up," said Harlamert. "This was his first big-time start of the year against a very good team. For him, that's great for confidence."
"They were making plays defensively," said Braun of Coldwater. "I can't say that right now for Celina, because we're not making plays I feel we should make. ... Tomorrow's a new day."
Matt Selhorst went 3-for-4 with a pair of doubles to pace Coldwater's offense while Bettinger and Heyne added two hits apiece.
Cody Vogel and Aric Fickert paced Celina's offense. Vogel was 3-for-4 with a home run in the bottom of the sixth and Fickert was 2-for-3 with two doubles.
"You're not going to find two better hitters back-to-back - I don't care, anywhere - than Vogel and Fickert," said Harlamert. "They had five of their seven hits."
Both teams are in league play today. Coldwater hosts Fort Recovery at Veterans Field while Celina will host the Wapakoneta Redskins.