Wednesday, April 24th, 2013
Poeppelman shuts down Parkway
By Gary R. Rasberry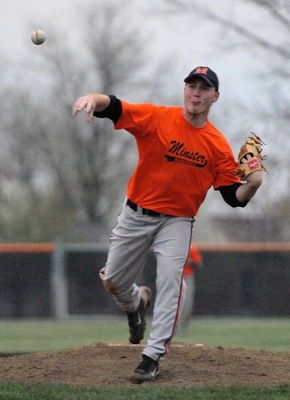 MINSTER - Backed by a strong pitching performance by senior Devon Poeppelman, Minster's baseball team won its second Midwest Athletic Conference contest in as many days on Tuesday with a 7-1 triumph over Parkway.
"We have things to work on, and I know Mike (Parkway coach Mike Schumm) will say the same thing, but getting two MAC wins in the first two days this week is a good thing," said Minster coach Mike Wiss, whose team improves 10-1.
Poeppelman, who walked two and struck out five, improved to 3-0 on the mound after tossing a complete-game five-hitter. He didn't allow a hit until a one-out double by Brandon Moorman in the fourth. The Panthers broke the shutout in the seventh when Kameron Roehm came home on a Cody Depweg RBI groundout.
"Devon wasn't feeling good," said Wiss. "You could see he labored a bit in the seventh inning (facing six batters, the most he faced in an inning). That's his third complete game, and in each of those games, we scored a few runs early."
"There were times we just didn't get the hit when we needed it to maybe change the direction of the game," said Schumm. "Of course, when you play a team like Minster, they're very well-coached and have some terrific athletes; you have to play your best and we just didn't play our best tonight."
The Wildcats scored twice in the first inning against Parkway pitcher Jordan Stephenson and never trailed. Adam Niemeyer singled in Jay Eilerman, who reached on an error, and Niemeyer then came home on an Ethan Wolf RBI single.
Stephenson shut down Minster for the next three innings before the Wildcats tacked on three runs in the fifth and two more in the sixth. Two of the three runs in the fifth came home via wild pitches and Wolf recorded his second RBI with a single. Andrew Knapke doubled in Eilerman in the sixth with Niemeyer doubling in Knapke.
"They're a very fine hitting team," said Schumm. "When you play a team like that, you can't give them any free passes, whether it's walks or errors, because they'll make you pay."
Wolf, Niemeyer, Clay Brown and J.R. Nixon each had two hits for the Wildcats.
Moorman, Austin Adams and Jack Roth had doubles for the Panthers.
Minster will try to host Crestview today, weather permitting, while Parkway hosts Bath on Thursday.