Saturday, April 27th, 2013
Graduates ponder their job prospects
Lake Campus ends year with smooth transition to semesters; no problems at new housing units
By Amy Kronenberger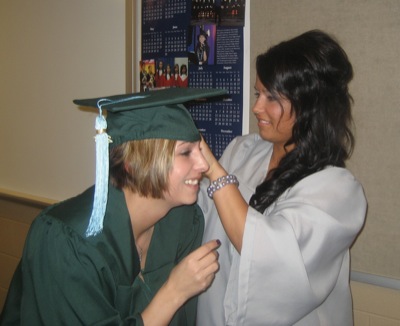 Finding a job in today's market could be difficult for the 156 Wright State University-Lake Campus students who accepted their diplomas Friday at Parkway Local School.
The national unemployment rate for workers younger than 25 was 16.2 percent in March - more than twice the national unemployment rate of 7.6 percent, according to the Economic Policy Institute. Mercer County's overall employment rate in March was the lowest in the state at 4.6 percent.
Some Lake Campus students taking a break from finals this week said they were concerned about finding a job after graduation.
Freshman John Gabriel said finding a job would be especially difficult for him because jobs in the public sector are "few and far between." Gabriel, a criminal justice major, plans to be a police officer.
Gabriel and his friends said they are working part-time jobs to help pay for school.
"It'll be a big difference when we graduate," sophomore and earth/environmental science major Suzie Winte said. "No one's in the dream job they want to be in for the rest of their lives."
The students said this year's switch from a quarter system to a semester system will help in finding work because of the earlier end to the school year. In previous years, Wright State students were in school until June.
"The earlier you can apply, the more jobs there are," Gabriel said.
Lake Campus Dean Bonnie Mathies said the transition from a quarter system to a semester system this school year went better than expected.
"I think we were surprised at how smooth it was," she said. "We were pleasantly surprised and pleased."
Teachers and staff spent the last five years going over every aspect and preparing for the change. Allowing that many years to prepare made all the difference, Mathies said.
"There were a lot of different people looking at it through different lenses, so most of the big issues were caught and taken care of before the first semester began," she said.
Switching to semesters also gave Mathies and her colleagues an opportunity to take apart the entire university system and make changes as needed.
"There aren't many opportunities for a business to look at every aspect and refresh outdated practices; most just do it piecemeal," she said. "This was a chance to take a step back and take a look at everything. It was taxing and extremely stressful at times, but it was well worth it because it made us better as a university and campus."
Mathies did stumble on a few snags. The summer session now begins in early May, when high school students and adjunct teachers are still in class. Incoming freshmen who want to start with the summer session may still be finishing high school.
"We'll have to flipflop classes so it can work," she said.
Mathies said some teachers, having taught in a quarter system most of their careers, struggled with the change.
"Some of us have been doing this a long time; it's a conditioning thing," she said. "It takes some getting used to."
The University System of Ohio had requested all two- and four-year state universities switch from quarters to semesters to allow for seamless transferability between universities, according to Herb Dregalla, Wright State University director of semester conversion.
The school year now consists of two 14-week semesters instead of three 10-week quarters. Lake Campus junior and earth/environmental science major Katie Runyon said she likes semesters because she has more time to learn a subject and doesn't have to rush through it.
"In the long run, it is an important and valuable change," Mathies said. "I've taught in both (quarters and semesters) and can build a case for both, but I think overall it was a positive move.
"It was painful at times, but we came through it much stronger than when we started," she added.
Knapke Villas, the new campus housing complex, also saw success in its first full year, according to community director Lucas Miller. The complex had full residency with 28 students this year and had five on a waiting list.
The building consists of six furnished apartments, each of which can hold five to six students. Miller lives in one of the units and oversees day-to-day operations.
Miller said new housing programs always face hurdles when they first begin but everything ran smoothly.
"I think the staff, faculty and students have done a wonderful job of coming together and clearing the hurdles we have seen this year," he said.
The units already are full for the 2013-2014 school year with a waiting list. Miller said he cannot give a number on the waiting list because it changes daily due to students adding their names and other students deciding to attend another school.
"The number of students who would like to live on campus is higher than we have hoped," he said. "Since it is only April, there is still plenty of time for more students to show interest."
Sandi Holdheide, campus director of student services and public relations, has said the Western Ohio Education Foundation - the organization that funded the $1.6 million housing project - would use the number of students on the waiting list to help determine when another complex should be built. No plans are in the works.
Miller said all students moved out of their apartments after completing their finals this week. The university does not allow summer housing, instead, using that time to inspect each unit and make repairs before the August move-in.
Mathies said increasing enrollment numbers are outgrowing the small campus. They now don't have a facility large enough to accommodate the number of graduates; so commencement ceremonies Friday were moved to the Parkway school auditorium.