Monday, April 29th, 2013
Donated organs give recipients second chance
By Margie Wuebker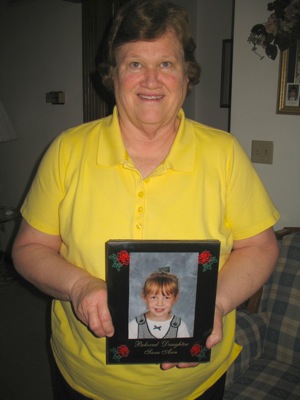 ST. MARYS - Lynn Shaffer hopes to one day meet his heroes - the family of the deceased person who donated a liver so he could live.
Shaffer, a former Huffy Manufacturing Co. employee and a ConAgra retiree, began having stomach problems in 2006 and doctors determined his liver was deteriorating. Diet and medication worked for several years before he was placed on a transplant list.
In July 2010 doctors ranked him as the No. 1 liver candidate in the Cincinnati region. A call came nearly three weeks later.
"I refused to believe I was that bad," Shaffer said. "It took three people to help me out of a chair and later the doctor told me I had no more than six months without a new liver."
The 60-year-old St. Marys man awakened after the eight-hour surgery feeling better than he had in a long time.
"The new liver came from someone in Columbus, and that's all I know at this point," the father of five and grandfather of 11 said. "I hope at some point to communicate with the donor's family."
A letter he recently penned will go to the transplant center in Cincinnati where the surgery was performed. If the donor's family agrees, the letter will be sent to them and they will decide whether to make contact.
"Initially, it was hard to get over the embarrassment associated with knowing that someone had to die so I could live," Shaffer said.
He now is an ambassador for Life Connection of Ohio, a not-for-profit agency designated by the federal government as the Organ Procurement Organization for Northwest and West Central Ohio.
"I am not a hero," Shaffer said emphatically. "The real heroes in this world are the families of donors who give the ultimate gift. I saw people at the transplant clinic who died before needed organs could be found. That should not happen."
He and other ambassadors share a goal of getting at least one new donor at each club and organization program they give.
"Heroes make the selfless decision to help others in the midst of their own loss," said Cathi Arends, director of community relations for the Dayton regional office of Life Connection of Ohio. "They see past tragedy and help miracles happen."
Coldwater residents Luke and Luella Brackman made the decision to continue their daughter's generous nature following her death in a car-bicycle accident on Aug. 8, 2000, near the family's Emerald Avenue home.
"Sara always loved giving things to others," Luella Brackman said. "Knowing she had always been such a giving child and so young and healthy, we decided to donate her organs in the hopes that another family would be spared the loss we were experiencing. Sara would have wanted it that way."
After family members took turns rocking the little girl, who had suffered irreparable brain injuries, they entrusted her to the organ recovery team.
Sara's lungs went to a 7-year-old Pennsylvania girl with cystic fibrosis. Ironically, the little girl had a best friend named Sarah. She also had a penchant for peanut butter and jelly sandwiches, Barbie dolls and shopping like the donor.
Her right kidney went to a Pennsylvania man named Henry, who had spent much of his life working as a operating room scrub technician before taking disability leave due to kidney failure. The left kidney went to a 37-year-old West Virginia woman named Vanessa. The mother of three no longer needs dialysis.
Sara's right cornea went to a 1-year-old in California and the left one to a doctor in Vermont.
The Brackmans have no idea how many people benefitted from their daughter's tissue donation.
"The amazing thing is we didn't know anything about organ donation until the critical care doctor at Dayton Children's Medical Center talked to us that night," Luella Brackman said. "One person can save up to eight lives through organ donation and enhance the lives of 50 more through tissue donation."
Garet Schmehl registered as an organ donor at the age of 15 1/2 after seeing a program at Memorial High School in St. Marys. He shared with his parents, Tony and Renee Schmehl, about wanting to help others and never wanting to live in a vegetative state.
The 20-year-old man died Nov. 10, 2011, just three days after suffering devastating head injuries in a traffic accident not far from home.
"We knew Garet's wishes but that didn't make it any easier," said his father who currently serves as a Life Connection ambassador. "His dream was meant to be ... Garet actually died at the accident scene but was revived."
Doctors recovered the young man's kidneys, pancreas, liver, heart valves, corneas and tissue such as skin, bones and tendons.
A young mother of two in Vermont received the pancreas. A retired California man with five daughters flew to the Cleveland Clinic to receive the liver. A photograph of Garet now sets on his mantle and every birthday cake comes with two candles - one for him and one for the young man who provided a new lease on life, according to a letter he wrote to Garet's parents.
"We take great consolation in knowing Garet's wishes were carried out," Tony Schmehl said. "At least something good came out of such a tragedy."

Donation stats:
• One person can save up to eight lives through organ donation and enhance the lives of 50 more through tissue donation.
• Nearly 3,500 people in Ohio are awaiting transplants with the kidney, liver and heart being most in demand. Nationwide, the number is nearly 117,000 with another person added to the National Transplant Waiting List every 10 minutes.
• Eighteen men, women and children across the nation die each day needing organs. More than 2,000 Ohioans have died waiting for an organ transplant in the past decade.
• Joining the Ohio Donor Registry is a way to legally give authorization for the anatomical gift of organs, tissues and eyes upon death. You can join the registry at www.DonateLifeOhio.org or at the Bureau of Motor Vehicles when you obtain or renew your Ohio driver's license or state identification card.
• Share your decision with family members because they will be contacted as part of the donation process.
• Organ donation does not restrict regular funeral services or incur added fees to survivors. Additionally, medical treatment will not suffer if you are a donor.
• There is no age limit when it comes to organ donation. Many times tissue can be recovered even though organs are no longer viable due to injury or disease.
• Life Connection of Ohio last year coordinated the recovery of organs from 44 donors, providing 147 life-saving transplants.
Source: Life Connection of Ohio