Tuesday, April 30th, 2013
Harrod stepping down as chief
Longtime officer led police department for 33 years
By Margie Wuebker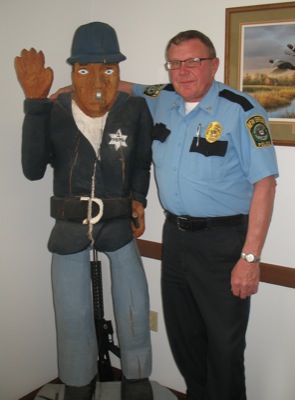 NEW BREMEN - Local police chief Doug Harrod remembers his first day as an Auglaize County law enforcement officer.
He walked into the Wapakoneta Police Department on his 21st birthday. Then-chief Bill Wolfe ordered "Don't get into trouble" as he tossed the rookie 18 rounds of ammunition for his gun and the keys to a cruiser.
The training came later with completion of classes at the Lima Police Academy.
"How times have changed," he said. "Now there are so many requirements and training never ends."
Harrod, who came to New Bremen as chief following an eight-year stint in Wapakoneta, is retiring today after 33 years at the helm. Taking his position is police officer Mike Skinner, who has worked with Harrod for 14 years.
"I tried to instill in each officer who worked for me that our job is to enforce laws and protect local citizens, but we need to do it ethically and with compassion," he said. "Mike is the right person for the job."
Harrod, who turns 60 in July, never wanted to be anything but a cop and civil service runs in the family.
His father worked with the Auglaize County Sheriff's Office and founded the auxiliary force there. Brother David retired from the Wapakoneta Fire Department. Dan worked as a part-time police officer in New Bremen for 30 years, and younger brother Don serves as village administrator in neighboring Minster.
Harrod became police chief March 31, 1980. One of his first duties was implementing round-the-clock coverage with the help of two other officers. Previously, officers went home at 2 a.m. and remained on call.
The local police force has grown to six full-time and five part-time officers over the years.
"We have the same problems - robberies, assaults and even drugs - as the big cities, but they don't happen as often," he said.
Internet/telephone scams and identification theft top the list of problems Harrod sees these days with senior citizens often being the target. Drugs remain a problem with methamphetamine, heroin and cocaine replacing marijuana and LSD.
His duties often extended far beyond normal business hours. A devastating Saturday night fire in 1996 at Dairy Farm Products is one example. Half the town was evacuated due to anhydrous ammonia tanks on the roof.
"I was frying chicken at the American Legion when the call came in," he said. "I finally made it home on Wednesday when all the barricades came down. That was an emergency situation I will never forget."
There have been lighter moments, such as the evening he was dispatched to a home of a worried mother. Her son was ready to leave for the prom and dad had not arrived home to tie the tie, so the chief did the honors.
Harrod gets misty eyed when he talks about missing interaction with youths through various safety presentations and daily walk-throughs at the elementary/junior high and high school buildings.
"The kids are the best part of the job," he said. "I developed a rapport with them over the years to the point they will come up and share concerns with me. The worst part of the job is making death notifications, particularly when it involves a child."
In March, local students honored Harrod with a surprise assembly. He received homemade cards and gifts like a bicycle helmet signed by all the teachers - many of whom attended his bicycle safety programs as youths.
"That's the first time the kids saw Chief Harrod cry," he said.
In 2002, he became the village's first employee to retire and be rehired. The state years ago began allowing public employees to retire and then return to work while getting both a salary and retirement benefits.
"I wasn't ready to call it quits at the time," he said with a smile. "I still love the job, but at this stage of my life, there are other things I want to do."
Harrod's wife Susan retired several years ago as director of the Auglaize County Child Support Enforcement Agency. The couple, who have two grown children, have some Harley-Davidson motorcycle outings planned but otherwise their calendars are clear. He plans to continue his hobby of being a gun dealer.
"I will miss serving the people of New Bremen, but I won't miss getting up at 5:30 in the morning," he said. "It is bound to be difficult every time the police sirens sound ... I will have to remind myself the call is somebody else's responsibility."