Thursday, May 2nd, 2013
Local man gets 13 years in prison
Car crash in 2012 claimed two lives
By Margie Wuebker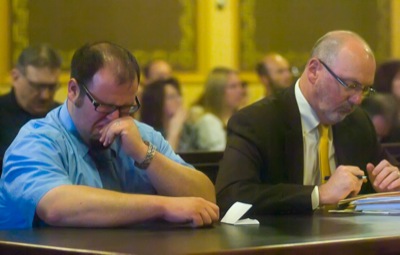 CELINA - Ryan Billenstein, a 28-year-old Coldwater man with a wife and two young sons, was sentenced Wednesday to 13 years in prison for a July 14 accident that claimed the lives of two men.
"A bad decision led to tragedy," he said prior to sentencing in Mercer County Common Pleas Court. "No amount of time can take away the guilt or the sorrow."
Craig A. Gengler, 22, of Celina, and Vincent A. Gragorace, 21, of Greenville, died in the accident while 21-year-old Bethany Marie Wentworth of Greenville sustained serious injuries.
Toxicology tests administered after the 2:58 a.m. accident detected the presence of alcohol and marijuana in Billenstein's system. His blood-alcohol content was 0.11; a driver is considered legally impaired at a level of 0.08 and over.
Billenstein, a resident of 560 S. Second St., was stopped approximately 30 minutes before the 2:58 a.m. crash in Coldwater after a police officer witnessed a lane violation. The officer gave him a warning. Following the stop, the Mercer County Sheriff's Office received multiple reports of a car similar to his 2006 GTO traveling at a high rate of speed. Billenstein crashed his car minutes later at the intersection of state Route 119 and Lange/Fleetfoot Road near St. Henry.
Judge Jeffrey Ingraham imposed five years each on two counts of aggravated vehicular homicide and three years for the lone count of aggravated vehicular assault, with the time to run consecutively. Billenstein is not eligible for early release. He also was given a concurrent six-month sentence for operating a vehicle under the influence of alcohol or drugs of abuse.
Other terms of the sentence include a mandatory $375 fine and a lifetime operator's license suspension. There was no claim for restitution.
Gary Calvert, a brother, represented the Gragorace family at the podium.
"Vince gave us more love and laughter in his short 21 years than most people have in a lifetime," he said. "His life has been frozen in time, his memories precious to all of us, his future forever lost to us. We hope we can find some meaning in the senseless death of our beloved son and brother."
William J. Ross, Gengler's father, spoke of overwhelming pain and deep-seated anger.
"This was not an accident," he said. "An accident is an incident that happens unexpectedly and unintentionally. It may have been unexpected but the high rate of speed and every other act in the early hours of that morning were intentional. A grown man and the father of two should know better than to put three young people and himself at risk."
Standing 6 feet, 5 inches, Gengler often placed his palms on the ceiling and lifted his young nieces or nephews to do the same, Ross said, before closing his eyes, swallowing hard and adding that the handprints are still visible.
Brenda Gengler struggled to maintain composure as she recalled a telephone call from her son the night of the crash.
"Craig told me he was going out with Bethany and Vince and had it arranged Bethany would be the designated driver," she said. "They were making sure that everyone would be safe, and I didn't have to worry."
She pointed out Billenstein had been taking people on fast rides many times over the years without regard for his wife, family or passengers.
"Craig never met Ryan before or knew what kind of ride this was going to be and paid for it with his life," she said. "Mr. Billenstein will have a future. Craig and Vince won't, and Bethany almost didn't."
Mercer County Prosecutor Matt Fox requested a significant prison sentence for the four offenses. He recounted Billenstein's past record, which included a prior OVI conviction and more than a dozen speeding charges in recent years.
"We know he had a penchant to drive fast and to put his life and others at risk," Fox said. "He received a pass moments before the accident. Most of us drive the safest after we have received a warning; his response was to go out and drive fast."
Billenstein earlier told the grieving families that he hoped God would heal the sorrow caused by his actions. At the end of the proceeding, he removed his watch and wedding ring and handed them to his crying wife.

Correction:
The story stated Craig A. Gengler's mother was Brenda Gengler. Her name is Tracy Gengler. The error was made in reporting.