Thursday, May 9th, 2013
Homan pitches perfect game in Flyers' victory
By Gary R. Rasberry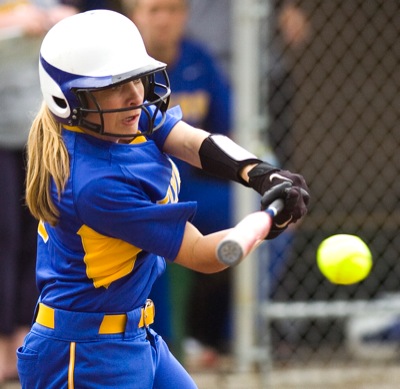 MARIA STEIN - Taylor Homan could relate to a mail carrier on Wednesday, as neither rain nor thunder could deter the Marion Local softball pitcher from her route.
Homan battled through the weather elements while retiring all 15 Fort Recovery batters she faced in Marion Local's 15-0 Midwest Athletic Conference win at the Flyer Athletic Complex.
Homan had the Indians handcuffed for all five innings as Jackie Fullenkamp's line out to rightfield was the only ball that Fort Recovery hit out of the infield. Several stretches of brief rain showers and a delay in the bottom of the fourth because of thunder didn't seem to distract Homan, who struck out five.
"She had command of her pitches tonight," said Flyers coach Russ Puthoff, who could not recall if there had ever been a previous perfect game in program history. "She did a nice job controlling what they did.
"Good defense helps every pitcher out. Brianna (Bragg) did a great job at third base," added Puthoff.
Marion Local scored four runs in the first inning, two on a wild pitch ball four and two more on Heather Mescher's single.
The Flyers went scoreless in the second inning before sending 13 batters to the plate in the third and scoring nine runs, all but one being unearned after six Indians' errors. Mescher and Brandi Rethman each had RBI singles with Katie Elking and Allison Rosenbeck connecting for RBI doubles to highlight the scoring outburst.
"It helps a pitcher when you can put a couple runs on the board early," said Puthoff. "Then she (Homan) can get into a nice groove, got her rhythm down and did a nice job."
"You're never going to win with that many errors," said Fort Recovery head coach Marie Osterholt. "We just didn't play very good tonight."
Megan Kuether and Rosenbeck each went 3-for-4, Elking and Megan Wendel added two hits apiece and Mescher drove in three runs.