Friday, May 10th, 2013
Chapel on wheels brings God to truck drivers
Non-denominational venue near Rockford offers a place to pray, meditate
By Margie Wuebker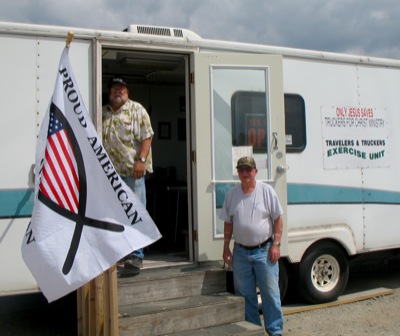 ROCKFORD - The Truckers for Christ Ministry has rolled into the Motor Inn Truck Stop, and owner Rex Bragg could not be happier.
"This is a non-denominational program where travelers can stop for prayer and meditation," he said. "The goal is to have it available around the clock because the road can be a lonely place."
Formal dedication ceremonies were held Saturday morning, marking the official opening at the new location.
Banners and lighted crosses mark two travel trailers located in the parking lot on the west side of the building.
A wood ramp leads to the first one containing a makeshift altar, a kneeling bench and upholstered seats. The Theodoshia "Teddy" Burnside Chapel offers inspirational reading material, Christian music and motivational tapes without charge. It is open all hours of the day and night.
"Motor Inn has offered free bibles for years," Bragg said. "Truckers for Christ - a nationwide organization -also gives them to anyone who feels the need."
The second trailer, which is open whenever volunteer chaplains are on duty, serves multiple purposes: Donated exercise equipment provides a much-needed outlet for men and women who earn their livelihood driving the highways and byways, and folding chairs provide welcome places to sit, engage in conversation or simply meditate.
Michael Bruss of North Jackson stopped on Tuesday afternoon to talk with volunteer chaplains Clyde Searfoss and Clyde McCune during a break en route to deliver a load in Fort Wayne, Ind.
"I saw the Truckers for Christ sign and decided to check it out," Bruss said. "I plan to stop back here on my way home. Jesus Christ is truly at work here."
The young man, who will become the father of twins any day, politely refused the offer of a bible and pulled his own well-thumbed version from a shirt pocket.
He left after 20 minutes, carrying several Christian flags to decorate the cab of his Freightliner and ward off undesirables who prowl some truck stops.
"Darwin Burkholder is our head chaplain and Richard Berg also works with us," Searfoss explained. "We definitely need more volunteers with a desire to share the word of God two hours a week. People willing to give of their time are the lifeblood of this ministry."
Carl Rucker of DeGraff established the chapel - named for the person who led him to God - nearly three decades ago, first at a Jeffersonville truck stop and later at an Anna truck shop near Interstate 75. However, ownership changed and the new man ordered the trailer's removal.
Bragg, a confirmed Christian, quickly offered his parking lot as the new home for the program that operates through donations from individuals, organizations and churches.
"We're not out to take people away from local churches," Searfoss said. "We're here for truckers and anybody else who feels the need to have some time with God while traveling here, there and everywhere."
Trailer ministry is not new to the area. Pastor Randy Christian of The Lord's Church in Celina brought a similar program to the Motor Inn some years back. It was towed away under the cover of darkness never to be found.
"We have taken precautions to eliminate that possibility," Searfoss said. "God put us here for a reason and we are committed to his work."
Anyone interested in volunteering can call Burkholder at 937-658-0470, Searfoss at 567-644-2494, or Berg at 419-953-9614.
Additional information regarding the ministry is available at www.truckersforchrist.org.