Saturday, May 11th, 2013
Miraculous recovery for Schwieterman
By Gary R. Rasberry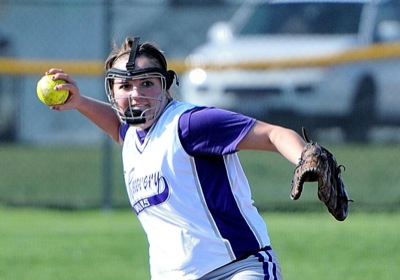 The word "miracle" is used too often in sports.
When talking about Janelle Schwieterman, however, miracle fits like a batting glove.
A year after a severe car accident caused critical injuries to her body, and even brain damage, the Fort Recovery senior has not only returned to school, but has also been playing softball once again for the Indians.
"I worked really hard," said Janelle. "I'm not as worked up as I was (about softball) years before. Considering my traumatic brain injury, what I'm doing now I could have never imagined."
Last April, Janelle, who moments before had been in a minor car accident, was driving another vehicle when she missed a stop sign and was hit by a semitrailer. She was then flown to St. Rita's Medical Center in Lima because of the severe injuries, which included brain damage, and later went to Miami Valley Hospital.
The injuries included a collapsed lung, lacerated spleen, factured jaw, hematoma on her leg and a narrowed carotid artery. Amazingly, Janelle did not need any surgeries to repair the physical damage.
Almost immediately, the Schwieterman family began to receive a lot of support from people in Fort Recovery and in other Midwest Athletic Conference school communities.
"She had so much support. Kids were coming up. So many cards and wishes to get well and good luck. It was unbelievable," said Janelle's mother, Karen Schwieterman. "Even when she didn't know what (support) she was getting, we knew it because we were there 24/7, never left her side. It meant so much for us."
"Teams from the other schools she knew sent support and cards," said father Mike Schwieterman. "They had a big prayer service, that's the fullest I've seen the church packed."
Janelle had many obstacles to overcome to try and return to a normal life. Not only did she have to learn how to walk again, she also had to relearn how to speak.
"Her short-term memory was not good at all," said Karen Schwieterman. "Somebody could come see her at the hospital and an hour later she couldn't remember it. She had no sense of balance. She'd try to sit on the edge of the bed and fall over."
She was released from the hospital three weeks after the accident and the first thing she did was go to her team's softball game. She also attended the final couple of days of school to reconnect with friends.
"We've heard many times 'What a miracle!,'" said Karen Schwieterman. "She couldn't walk very well, couldn't remember things... To do simple math was hard for her. This year hasn't been what she thought it could be. She wanted to take AP (Advanced Placement) classes. The doctors told her to take a step back and not to frustrate (herself). She's understood that and done very well."
So, Janelle returned to school and worked diligently at rehabilitation. She was named Homecoming Queen during the fall and was an assistant to the coaching staff in basketball since she was not cleared to play high school sports (although she did play CYO basketball).
"I definitely had a lot of support," said Janelle. "With the support of all my friends ... They were all there for me. If I needed something, they would come up and say 'Hey, do you need anything?' All the teachers came up and helped me."
In the summer, Janelle took summer classes to make up the school work that she missed while in the hospital and during rehabilitation. She's on track to graudate on May 19.
Still, Janelle was determined to play softball.
"I couldn't even strain. I couldn't lift 25 pounds," said Janelle. "I really couldn't do anything to prep (for softball). I played CYO basketball. I just did running. Physically, I couldn't do much. I did as much as I could do and what the doctors would allow me to do."
The decision to play softball was a concern for her parents, and the two had differing opinions.
"To me, the doctors said 'live a normal life,' after seeing things looked good," said Mike Schwieterman. "Mom was pretty worried about that."
"I was the one who had the brakes on saying, 'I really don't think she should play.' But she's like her dad. They love the game so much," said Karen Schwieterman. "But the doctor said to let her live her life and have fun. She just has to be more cautious."
A week before the start of preseason practice, Janelle got the okay from her doctor.
"I was ecstatic," said Janelle. "Softball was the only sport I really wanted to play. It's my love."
Karen insisted that Janelle wear a protective face mask when playing defense with batting helmets already having face masks attached. Fort Recovery head coach Marie Osterholt then decided to make it a requirement for all of the Indians' infielders and pitchers.
Even with the precautions, there was a contentious moment in practice.
"One of the first practices outside, I got nailed in the head with a softball," said Janelle with a smile on her face. "I had a helmet on. All the coaches and players were looking at me, then they saw I was fine and practice was done 5-10 minutes after that. We just took precautions. Nothing bad happened."
"I was just like 'I knew it was going to happen,'" said Karen Schwieterman.
"I was nervous," said Osterholt about having Janelle back and playing. "But everything's going well and we haven't had any problems."
Schwieterman, a second-team All-MAC selection a year ago with a .423 batting average, has been productive this season. Coming into the week, Janelle was batting .334 with three triples for the Indians, who are struggling with a 1-17 record.
"I just think it's wonderful she can come back and play," said Osterholt. "Never expected it. I'm so glad for her to be able to do it."
As for the future, Janelle would love to continue her education in college. A few years ago, that also meant trying to play college softball. Now it's one thing at a time.
"Before my accident, I wanted to play college softball. After that, it wasn't on my mind any more," said Schwieterman. "But softball drove me to get better and get back to where I wanted to be."