Monday, May 13th, 2013
Indians, Flyers win in semifinal matchups
Division IV Baseball Sectional at Minster
By Gary R. Rasberry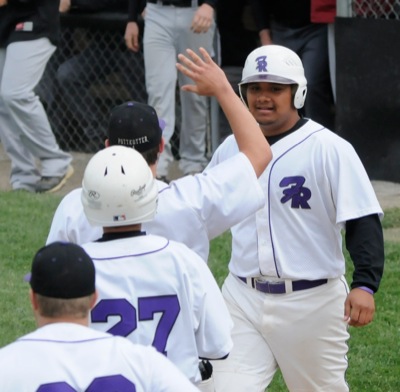 MINSTER - Solid pitching paved the way for the winning teams during the two games of Saturday's Division IV baseball sectional at Hanover Street Park in Minster.
Chad Schroer's bases-loaded single in the bottom of the seventh allowed Fort Recovery to edge New Bremen 3-2 in the second game of the semifinals. Indians freshman Jackson Hobbs outdueled New Bremen's Clay Bertke in a well-pitched contest.
In the opening game, Dustin Rethman threw a complete-game, two-hitter and allowed just one unearned run as Marion Local advanced to the sectional final with a 7-1 win over New Knoxville.
The matchups for Wednesday's sectional finals feature Marion Local (8-15) against two-time defending state champion Minster at 5 p.m. The nightcap has Fort Recovery (14-12) facing second-seeded St. Henry at approximately 7:30 p.m.
Fort Recovery 3, New Bremen 2
Hobbs improved to 4-3 on the season with a complete-game effort that included seven strikeouts and no walks. Bertke walked three and scattered five hits.
"We knew that Mr. Bertke had a 4-1 record and has pitched very well, so we knew it was going to be competitive," said Indians coach Jerry Kaup. "With Jackson, we think he gives us the best chance to be competitive. He battled and stacks up well against the other pitchers in the league. He gives us a chance."
"The Hobbs kid threw well," said Cardinals coach Josh Bowersock. "He doesn't throw anything overpowering, but he mixes it up well. Kept us off-balanced, obviously, most of the game.
"He threw pretty well," said Bowersock said of Bertke. "He battled around some errors. It's always bad to see errors on (the scorebook) because you have to throw more pitches, but overall he threw well."
The Indians scored an early run in the second when Shane Pottkotter scored on a wild throw from first on an infield single by Mikie Joash. Bertke then shut down Fort Recovery for the next three innings.
In the fifth, New Bremen's Trey Naylor led off with a single, stole second and went to third on an errant pickoff throw. Alec Huecker then lofted an RBI sacrifice fly to rightfield to score Naylor and tie the game at 1-1.
In the sixth, the Cardinals took the lead. David Zirkle singled and went to second on an error before Ty Overman's RBI double put the Cardinals on top 2-1.
Fort Recovery quickly tied the score in the bottom of the sixth frame. Cole Wendel reached base on an error, was bunted to second by Blake Boughman and balked to third. Fort Recovery then executed the suicide squeeze to perfection, as Pottkotter put the bunt down with Wendel charging home to tie the score.
In the bottom of the seventh, Joash was walked and pinch-hitter Kyle Schroer was hit by a Bertke pitch. Gabe Riegle stepped in to bunt the runners over, and got a bonus by beating out a throw for an infield single to load the bases. Chad Schroer ended the game with an RBI single to leftfield to score Joash.
"You have to make plays to win baseball games," said Kaup. "Certainly when you're in the tournament, and certainly when you're playing a MAC (Midwest Athletic Conference) opponent. You have to make plays and have to execute to be successful. We were fortunate to execute one or two more plays than they did and come away with the win."
"With all due respect to Fort Recovery, we gave them the ball game," said Bowersock. "Bottom line, we gave it to them. Last inning, 7-8-9 (in the batting order) and we walk them, hit them and give up a bunt single."
Marion Local 7, New Knoxville 1
Rethman was sharp in getting the win over the Rangers, only allowing singles to Michael Porter and Cody Shaw to go with two walks.
"He's really turned it on of late," said Flyers coach Bryan Gray. "He's going right after hitters and making his defense work. Really proud of how he threw today."
"He pitched a really good game," said Rangers coach Nick Schroer. "... We had a few miscues here and there but (Marion) hit the ball and put it in play."
The Flyers got the scoring started early, getting two runs in the bottom of the first as Austin Albers came home when Kyle Mescher reached on an error, with Mescher scoring on Dustin Rethman's single.
"Trying to get some (runs) on the board allows us to take a deep breath and just go play baseball like we did," said Gray.
Jordan Rethman doubled in Cole Griesdorn in the second to put the Flyers on top 3-0 before the Rangers broke up the shutout in the fifth. Jake Allen reached on an error, and came home on Porter's single to account for the Rangers' only run.
Marion Local quickly put the brakes on any Rangers rally attempt with four runs in the fifth off Allen. Dustin Rethman contributed a two-run double and later scored while Troy Homan trotted home when a Jordan Rethman fly ball, for what would have been the third out, was dropped.
Dustin Rethman led the Flyers' offense by going 2-for-3 with three RBI.