Tuesday, May 14th, 2013
Redskins rally for seven-run fifth
Minster, Coldwater tied for MAC lead with one to play
By Gary R. Rasberry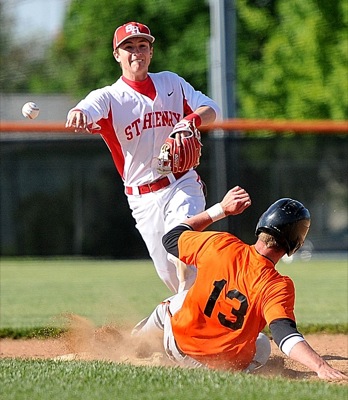 MINSTER - After spotting Minster a 4-1 lead, St. Henry's baseball team bided its time.
The Redskins then sent 13 batters to the plate in the fifth inning and exploded for seven runs en route to an 8-6 win over the Wildcats in Midwest Athletic Conference play on Monday at Hanover Street Park.
St. Henry (20-5, 7-2 MAC) handed Minster (19-2, 7-1 MAC) its first conference loss of the season, leaving the Wildcats in a first-place tie with Coldwater. The MAC title will be up for grabs tonight when the Wildcats travel to Maria Stein to take on Marion Local while the Cavaliers host St. John's.
"Tonight, the best team won," said Minster head coach Mike Wiss. "St. Henry has a nice ballclub. They deserve it. That's their 20th win. They're very deserving of 20 wins."
Minster's starting pitcher Devon Poeppelman entered the fifth inning, having allowed just one run on two hits before St. Henry's seven-run outburst.
Alex Post led off with a double and was followed by a Brian Kremer walk and an infield single by Derek Rindler to load the bases for Garrett Stout. Stout connected for his second RBI single of the game before Jeff Paul followed with a two-run single to tie the score at 4-4.
Wiss then pulled Poeppelman from the mound and called on southpaw Clay Brown, who got lefty Andrew Lundvall to fly to left for the first out. Briar Holloman then ripped a double down the rightfield line to score Kremer and Rindler giving St. Henry a 6-4 advantage.
After Brown walked Devon Froning, Jason Jacobs made it 7-4 with an RBI single. Andrew Knapke then replaced Brown on the mound and recorded an out before Kremer brought home the last run of the inning by reaching base on an error.
"There was no panic," said St. Henry coach John Dorner. "We kept our focus. We were relaxed. We were able to string together some hits and laying off some tough pitches. We were maybe a little too aggressive early by swinging at some pitches that really weren't that great of pitches. Once we had some discipline at the plate, we hit some good balls and used the whole field: going opposite field, pulling some balls and hitting up the middle. We had a good approach at the plate."
"We could not get out of the fifth inning," said Wiss. "That was the first time this group had to sit there and take it all year. Maybe you can learn from that, make it a positive. You want to talk about it, but don't want to dwell on stuff the second or third week of May."
St. Henry starting pitcher Ryan Mikesell got out of a jam in the bottom of the fifth after Poeppelman led off with his second double of the game. Ethan Wolf lined hard to third baseman Froning, who doubled off Poeppelman at second for the double play. Mikesell ended the inning by striking out Brown.
Minster had a rally in the sixth as J.R. Nixon walked to start things, with pinch-runner Max Huber going to second on a single by Josh Nixon. Jay Eilerman then hit a single to left and Huber was waved home, but Jeff Paul fired a perfect throw to Holloman at the plate for an out. Knapke then doubled in two runs to cut Minster's deficit to 8-6. Dorner called on Kremer to get out of the jam, which he did by getting Niemeyer to ground out to short.
In the seventh, it was 1-2-3 for Kremer, getting Poeppelman and Wolf to ground out before striking out Brad Walterbusch to end the game.
"Ryan came in and threw a great ballgame, facing the number-one team in the state as a sophomore," said Dorner. "Got himself into trouble a couple times with walks (five in the game) and those came back as some runs, but Brian came in and slammed the door. He was absolutely dominating. It was good to see."
"Got to give credit where credit is due. Mikesell threw a nice game," said Wiss. "I don't think in any way we were right in our mind tonight. We were pretty quiet tonight."
Rindler, Stout, Paul and Jacobs each had two hits for the Redskins, with Paul and Holloman driving in two runs apiece.
Knapke went 3-for-4 with three RBI for Minster.

MAC baseball:
Midwest Athletic Conference baseball standings.
MAC Overall
Team W L W L
Minster 7 1 19 2
Coldwater 7 1 21 4
St. Henry 7 2 20 5
Versailles 5 2 18 6
Parkway 5 3 16 9
St. John's 3 5 8 13
New Bremen 2 5 6 16
Marion Local 2 6 7 14
New Knoxville 1 6 7 11
Fort Recovery 1 7 13 12