Thursday, May 16th, 2013
Wapakoneta digs out of early hole for victory
Division II Softball Sectional at Bath
By Ryan Hines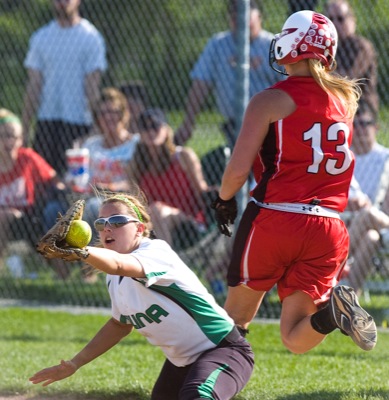 LIMA - Celina's softball team opened the season with the lofty goal of winning the Division II state championship.
That goal was squashed on Wednesday night when Wapakoneta overcame a 7-0 deficit to knock off Celina 11-8 in the D-II sectional final at Bath High School.
Celina (19-4) looked well on its way to advancing to the Miller City district tournament while holding a 7-0 lead after the first two innings, aided by five Wapak errors.
However, Wapakoneta (20-8) had a never-say-die attitude and slowly chipped away at Celina's lead while the Bulldogs' lethal offense went silent.
The Redskins scored six times in the third inning and tied the score at 7-7 with a run in the fourth.
"We're actually used to being down," said Wapakoneta head coach Bill Sammons. "It's like we need two innings under our belt to play the kind of ball we know how to play. I think it's one of the biggest comebacks for us in the postseason in our history. I'm very proud of our girls (for) not giving up."
Shelby Barga's RBI single in the fifth to score Katie Kerr put Celina back on top briefly before Wapakoneta tied the score again in the bottom half of the fifth.
Wapakoneta then had four hits and scored three times in the sixth inning to take the lead for good. Alexis Schwartz ripped a double into the left-centerfield gap to plate the go-ahead run. Carli Sammons then gave Wapak a two-run lead with an RBI single before a Celina error capped the three-run inning.
"For some reason we had no self-confidence out there even though we had a seven-run lead. We knew that Wapakoneta would fight back, and we just didn't play up to our potential and that's what really hurts," said Celina head coach Nicole Driggs. "We set our goals very high for a reason before the season because we believed that we could attain those goals and everybody was aboard. Those expectations did not get met."
In the top of the seventh, Cassie Freeman led off with a single and Kylee Bader was walked with two outs to bring the tying run to the plate for Celina. However, Kaity Kuhn's pop up to second base ended the game.
After scoring seven times in the opening two innings, Celina mustered just one run in the final five frames.
"Our offense was very confident but as they started creeping back in it, we went to sleep. We got tense and nervous and each girl tried to take it on themselves to get that extra hit," said Driggs. "At this stage you can't have mistakes and it has to be a team effort. You have to bring it. It wasn't our day. It wasn't our team showing up. It's unfortunate."
Celina's pitching staff struggled for the entire game as Bader (2 2/3 innings, 7 runs, 8 hits) and Kerr (2 2/3 innings, 3 runs, 7 hits) each spent two stints on the mound with Melody Donovan also making an appearance for 2/3 of an inning.
"Our pitchers just weren't hitting their spots out there. We left too many balls up in the zone and Wapak took advantage," said Driggs.
Wapakoneta will play Maumee in the D-II district semifinals next Wednesday at 5 p.m. in Miller City.
After losing 1-0 in the sectional final a year ago to Celina and dropping a 5-4 decision in eight innings earlier this year to the Bulldogs, Sammons was relieved to finally knock off their WBL rival.
"In the last four years we have beaten them one time besides tonight. We were 1-8 in that time against those guys," said Sammons. "It's always a struggle with those guys. Both teams respect each other and it is just a great rivalry."
Renee Lovett, who also earned the win on the mound, had three singles to lead Wapakoneta's 16-hit attack while Ashlie Cox, Kati Sawmilller, Carli Sammons, Stacy Miller and Schwartz all had two hits.
Freeman's three hits paced Celina while Kerr and Callie Vogel had two hits apiece.