Saturday, May 18th, 2013
Celina girls win WBL title
Western Buckeye League Track Meet
By Gary R. Rasberry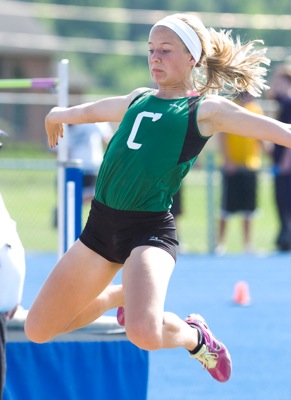 BATH TOWNSHIP - To those who thought a young Celina girls track team would have trouble competing for a second straight Western Buckeye League title this year, the young Bulldogs showed that age is nothing but a number.
Paced by big wins from Michaela Wenning and strong performances by several others, the Lady Bulldogs ran away with their 23rd league title with 116 points and finished 37 points ahead of runner-up Ottawa-Glandorf. St. Marys' girls also had a strong showing finishing in fourth place.
Celina's boys also had a good day finishing third, but Ottawa-Glandorf broke a 30-plus year drought to win the team title with Van Wert in second. St. Marys placed eighth.
"It's great to come in here and know our team just dominated," said Wenning, who helped contribute 40 points for the Bulldogs. "We lost all those seniors last year, people didn't think we could (win)."
"I'm so proud of our team," said senior thrower and sprinter Katie Sutter, one of just two seniors on the roster. "I'm so glad to contribute to them. It was a great senior year to go out and win. We have a lot of good freshmen and I know they can continue to do well."
Wenning, who won the high jump on Wednesday, came up big again for Celina on Friday. She won the 100-meter hurdles and 300 hurdles before capping the day by helping Kendra Fennig, Gina Strable and Bekah Carr win the 1,600 relay in the final race.
"To cap it off with the 4x400 was the sweetest thing to finish it out," said Wenning.
Carr, who also finished second in the 400 meters, was busy during the field events as she nearly wore a path from the pole vault area to the long jump pit. Carr won the long jump by nearly a foot over Kenton's Audrey Miller with a top leap of 17-2 3/4. The pole vault proved to be an intense battle, as Carr broke the school record of 10-4 (last reached by Kacy Stachler a year ago) by topping out at 10-8. However, St. Marys' Kelly Heitkamp also hit 10-8, with Heitkamp earning the tie-breaker win with fewer misses.
"I think Kelly did a fantastic job in the pole vault," said Carr. "She deserved it. She had the technique down a little better than me."
"I had to go against her before and she beat me off of misses a couple of times," said Heitkamp. "I thought it was going to happen again. I didn't want a repeat."
Celina's Gina Strable had a solid third-place finish in the 200 to go with a fourth-place effort in the long jump, while also running a leg of the Bulldogs' runner-up 800 relay. Katlin Robinson, along with Sutter the lone seniors on the roster, finished fourth in the 3,200. Freshman Emily Jackson was fourth in the 100 hurdles, fifth in the 300 hurdles and sixth in the pole vault. She also ran a leg of the 400 relay that placed fifth. Sutter, who finished second in the discus on Wednesday, placed third in the shot put and also ran legs of the 400 and 800 relays. Fennig added a sixth-place showing in the 200 and Autumn Brehm took fifth in the discus.
"No one did poorly today. There were no bad or unexpected things that went negatively," said Celina coach Dan Otten, who earned the WBL Girls Track Coach of the Year honor. "We had some bonus points and no negative points."
In addition to Heitkamp's win in the pole vault, St. Marys also got solid efforts from Amanda Dues and Kristen Dammeyer. Dues was second in the 1,600 and third in the 3,200 while Dammeyer was fourth in the 1,600 and second in the 3,200. Mariah Heffner finished third in the discus.
Celina's boys picked up two wins. Collen Byer, who finished second in the 100 meters, edged Van Wert's Nick Krugh by 0.09 seconds in the 200 meters.
"I was real happy with the way I finished in the 100. I was really ready to run the 200," said Byer. "What got me ready was the great performances earlier (by Celina teammates). ... Got me excited to run the 200 more than before."
The other Celina victory came from Braelen Bader, who dueled with Elida standout Quentin Poling in the 300 hurdles. It took a Superman lunge by Bader at the finish line to edge Poling by 0.01 seconds to win the event.
"Coming in, I knew it was going to be a battle," said Bader. "Poling is a heckuva competitor. I knew I would have to give my absolute best to stay with him today. I dove at the line and I knew it was going to take that extra effort to beat him."
Celina's Wyatt Jackson finished a close second behind St. Marys' Luke Lemmerman in the 110 hurdles. Nick Marks, the sixth-fastest qualifier on Wednesday in the 400, moved up two spots to take fourth. Kyle Snider, the slowest qualifier in the 200, added a point by grabbing sixth place. Byer finished fourth in the high jump with Jack Hinders tying for fifth, and Ben Watercutter added a fifth-place finish in the shot put.
"Our guys had the meet of their lives," said Otten. "Unbelievable what our boys did today. ... We won two events, in the 200 and 300 hurdles, and those little ones and twos (points) added up. Our sprint relays held up and our 4x4 ran their best time."
Lemmerman was happy to get the win in the 110 hurdles.
"I've been working all year," said Lemmerman. "It was a close race. I'm glad I won. (Jackson) was right on my butt."
Brennan Brown added a third-place effort in the 300 hurdles and Nick Durkee finished fifth in the 3,200.