Thursday, May 23rd, 2013
Minster bounced by Crestview
St. Henry advances to the district final, Division IV Baseball District at Coldwater
By Gary R. Rasberry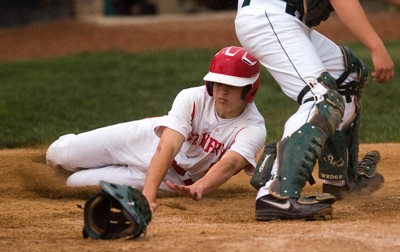 COLDWATER - Damian Helm proved on Wednesday night that scouting reports don't always tell the whole story.
The Crestview left-handed pitcher held Minster's explosive offense to three hits and the Knights upset the two-time defending Division IV state champions 10-2 in district semifinal action on Wednesday at Coldwater's Veterans Park.
The Knights (16-6) will take on St. Henry (24-5) on Friday night at 7 p.m. in the district title game after the Redskins, who were the top-ranked team in the final D-IV coaches' poll this week, defeated Ottoville 6-2 in the nightcap.

Crestview 10, Minster 2
Minster coach Mike Wiss chose to start Devon Poeppelman (5-1, 1.98 ERA) on the mound instead of Midwest Athletic Conference Player of the Year Adam Niemeyer (6-0, 0.21 ERA), hoping to save Niemeyer for Friday's district final.
"There's a lot of things you can say that you construe in a game like this as being negative," said Wiss. "The last thing I want to do in the newspaper is sound negative because of what has occurred tonight or what we're coming from the last two years. But, honestly, if I had seen something out of Helm, and I only saw him one game and for five innings against Fort Jennings (in the sectional final at Convoy), if I had saw that out of him then and thought he could do it to us, there was not a question I would have started Adam."
After Poeppelman started the game by striking out Crestview's Cam Etzler, Helm singled, Bryce Richardson was hit by a pitch and Jake Harmon drew a walk to load the bases. Poeppelman then struck out Isaiah Simerman, but a wild pitch scored Helm for the first run and Venice Roberts walked to re-load the bases.
Nathan Owens then singled in two runs to give the Knights a 3-0 lead. Jordan Roop doubled in Roberts before Brock Rolston doubled in two more runs. Etzler then reached base safely on an error to score Rolston and Helm walked before Wiss saw enough and called Niemeyer to the mound with the Wildcats trailing 7-0.
"I really, honestly, didn't expect the eight and nine guys (Roop and Rolston) to double," said Wiss. "I hadn't seen them hit it (out of) the infield."
"We kind of prepared for both (Niemeyer and Poeppelman)," said veteran Crestview coach Jim Wharton. "We felt coming in they might throw Poeppelman to start the game and come back with Niemeyer. Our preparations were (that) we threw soft (slower pitches, to simulate Poeppelman), then threw hard, too (to simulate Niemeyer."
Minster got a run in the bottom of the first inning when Poeppelman singled in Niemeyer, but Poeppelman was picked off and the Wildcats were trailing 7-1.
Niemeyer, who had allowed just one earned run all season in 33 innings pitched, was tagged for two runs in the third. Roop singled and Helm tripled him home with two outs before Niemeyer uncorked a wild pitch to score Helm for a 9-1 Knights' lead. Crestview added one more run off Niemeyer in the fifth.
Niemeyer, who struck out 18 in his last start, had 14 strikeouts and walked one in 6 1/3 innings of relief.
Helm, on the other hand, was totally in control. He struck out 10, scattered three hits and allowed just one more run in the seventh when Poeppelman and Ethan Wolf both doubled. Helm was also a home run short of hitting for the cycle, going 3-for-4 with two runs scored.
"Damian has been a gamer," said Wharton. "He came in last year (in the district final) and took a loss against Minster and gave up three hits. We felt coming in that Damian had to have a superb effort and we got a really good outing."
"I could not believe, in my heart, he could do that to our bats," said Wiss of Helm. "I told him 'You deserve a lot of credit and you should be proud.' Helm threw a great game. They did everything they needed to do to keep themselves in it and win.
"You can't take away what Adam, Devon, Jay (Eilerman) and Andrew Knapke have done in the last three years," continued Wiss. "They are 96-18 in high school baseball as four-year players, one as JV and three on varsity. It's a disappointment it had to go this way, but it did. Crestview played well to beat us."
St. Henry 6, Ottoville 2
The Redskins scored one run in the second and another in the third, but a sixth-inning outburst against Big Green starter Luke Schimmoeller was the difference for St. Henry.
After Garrett Stout walked, was moved to second base on Jeff Paul's sacrifice bunt and Andrew Lundvall walked, Briar Holoman singled and scored Stout to give St. Henry a 3-0 lead. Devin Froning then hit a hard shot to second that was misplayed, allowing Lundvall to score. Jason Jacobs followed with a two-run single that concluded the Redskins' scoring.
Ottoville was able to get runners on against Paul, but the Redskins' defense helped St. Henry's right-hander pitch five shutout innings.
"It wasn't pretty, but (Paul) was effective enough," said St. Henry coach John Dorner. "Our defense was strong. We did have the error at the end of the game. Defense has been a major part of our team all year long."
Ottoville, which stranded 11 runners on base, ended Paul's shutout bid in the sixth. With one out, Alex Horstman tripled and Joel Beining followed with a walk before Dorner called on Redskins' reliever Ryan Mikesell to get out of the jam. However, Mikesell uncorked a wild pitch to score Horstman before walking Cory Fischer and Craig Odenweller.
Dorner then called Nick Kremer to the mound and he gave up an RBI single to Derek Schimmoeller, but a perfect relay allowed St. Henry catcher Briar Holloman to tag out pinch-runner Wes Markward at the plate for the second out. Kremer prevented any more damage by getting a ground out.
"That's the fourth game in a row where we had an outfielder hit a relay man to throw someone out at the plate," said Dorner. "As long as we play defense, we have a lot of confidence in our pitchers and we put the ball into play, we're going to be tough to beat."
Kremer allowed the first two runners to reach base safely in the seventh, but a sacrifice bunt by Jared Fanning, a pop out and strike out ended the game.
Holloman and Derek Rindler each collected two hits for the Redskins with Holloman scoring twice while Jacobs drove in three runs.