Friday, June 7th, 2013
Prairie Creek results turning the tide
Prairie Creek Treatment Train, Man-made project showing good results early on
By Shelley Grieshop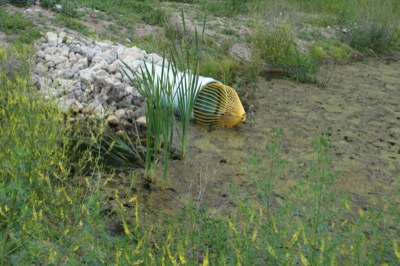 MONTEZUMA - Nearly crystal clear water is flowing into Grand Lake from Prairie Creek where a water treatment test has just begun.
Local officials said they're thrilled with the preliminary results of the Prairie Creek Treatment Train on the south side of the lake.
"It's just the coolest thing," Mercer County Economic Development Director Jared Ebbing said about the latest news. "It's (the project) having this big of an impact already and we're only getting started."
The visibly clear discharge is water pumped from the nearby creek and diverted through naturally constructed littoral wetlands where foliage such as grasses and lily pads filter out unwanted nutrients.
One of the steps not yet utilized in the treatment train is the addition of alum and chitosan (flocculant agents that remove water particles) in small ponds near the pumping station along state Route 219. That process will begin in several weeks.
The approximately $2.5 million project is located east of the Aqua View Estates subdivision. Project expenses are being paid by Ohio Department of Natural Resources, Ohio Public Works Commission, Ohio EPA and private donations. The venue is open to the public.
The overall goal of the 60-acre treatment train is to reduce nutrient and phosphorus levels in Prairie Creek before it reaches Grand Lake. Phosphorus - mainly due to manure run-off from farm fields - encourages foul-smelling algal blooms that cause dangerously high microcystin toxin levels in the lake.
Microcystin is a liver toxin produced by blue-green algae that can harm humans and animals. It can cause skin rashes, and if swallowed, can lead to nausea, diarrhea and vomiting.
Toxin levels this year are considerably higher than one year ago. Water samples taken June 3 at several places around Grand Lake showed microcystin levels ranging from 56 to 91.8 parts per billion. Tests one year ago were between 13 and 37.8 ppb. The World Health Organization's guideline for safe recreational contact is below 20 ppb. Health advisories continue to be posted at the lake.
Mark Bruce, spokesman for ODNR, said the state will perform toxin level tests at Prairie Creek after alum dosing begins. He's very excited about the cleaner water and credits the wetlands.
"Wetlands work," he said confidently. "That's the reason ODNR has committed its resources to this. We think this is going to be a huge benefit for the lake as well as waterways around the country."
Bruce said other states with algae-plagued waterways are closely monitoring the results at Prairie Creek.
Milt Miller, manager of the local Lake Restoration Commission, said he's anxious to see the results of future tests that measure phosphorus content of Prairie Creek before and after it flows through the treatment train. The scientific proof is needed to show it's working, he explained.
Miller said he isn't surprised the wetlands are doing their job.
"When we studied old aerial photographs before 1930, Mother Nature had 4,000 acres of wetlands at the lake," he said. "We're trying to duplicate that to keep the lake healthy."
No one has to convince Mark Piening the treatment train is a positive step for Grand Lake. The nine-year resident of Aqua View and vice president of the Lake Improvement Association recently began hearing the chirping of frogs - a chorus he rarely heard before the project began, he said.
"Sometimes I hear them all night like a symphony. It's a good sign for the environment," he said.
State and local officials believe the ongoing development of littoral wetlands will bring back various species of wildlife and vegetation that vanished from the lake's shores in the 1930s when lakeside development increased.
Ebbing hopes the success at Prairie Creek can be duplicated at all the tributaries that spill into Grand Lake.
"One down, seven to go," he said.