Monday, June 10th, 2013
Celina's Carr hits the podium in two events
State Track Meet
By Bruce Monnin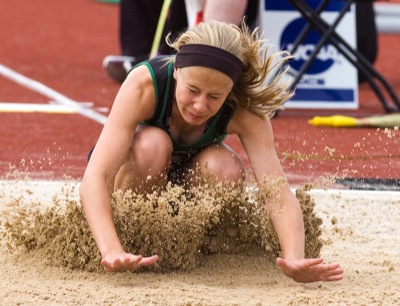 COLUMBUS - In addition to Coldwater's Sarah Kanney winning the 1,600 meters, there were nine other events on Saturday featuring local girls on the final day of the state track meet. Six of these events sent seven individuals and two relay teams to the awards podium.
In the team standings, Coldwater and Celina finished sixth and seventh, respectively, in the Division II rankings. For Division III girls, Marion Local placed the highest of the local squads in 13th place with 17 points while Minster was close behind in 16th place with 13 points.
The girls' D-III title was won by Versailles with 28 points. The Tigers used their win in the final event, the 1,600-meter relay, to pull away from a pack of 11 schools which were all within two points of each other going into the final race.
Division II girls long jump – Bekah Carr
The early morning entertainment was provided by Celina's Bekah Carr, who was competing in the long jump and the pole vault simultaneously. This provided great exercise for her coach, Dan Otten, who shuttled back and forth working out the logistics with the event officials.
After the pole vault officials agreed to let Carr go first in the initial round and last in the second round, Carr completed her first height in the pole vault and traveled to the long jump for the first flight. Her first jump was a little rushed, but she improved on each of her next two jumps to finish with a third attempt of 17-1 1/2, good enough to win her flight and ensure a qualifying berth for the finals.
After a few more vaults, Carr was called back for the long jump finals. She hit three more good jumps, one of which improved her mark to 17-6 1/4. This was second only to the 18-2 by state champion Ja'la Henderson of Meadowdale.
Carr greatly enjoyed her morning.
"I liked having all of the team there, cheering me on," said Carr. "My coaches prepared me well. I've been doing it from the WBL (Western Buckeye League) meet on throughout the tournament."
Division II girls pole vault – Bekah Carr and Kelly Heitkamp
Carr wasn't the only local athlete in the pole vault as rival Kelly Heitkamp, from St. Marys, was also competing.
The event got off to a rough start when Carr and another girl both failed to clear the opening height on the first attempt. Then it was noticed that the officials had accidentally placed the bar at 10 feet instead of the proper opening height of nine feet. Carr then cleared the bar with ease before leaving for the long jump.
Both girls successfully worked their way over the bar as it was raised to 9-6, 10-0 and 10-6. Heitkamp had been hoping to be able to clear 11-0 but was unable to do so in her three attempts, leaving her in seventh place, an improvement over her 10th-place vault of 10-0 last year at the state meet.
"Last year I was just glad to be here," described Heitkamp of the experience. "I've never been in a stadium packed this full. It is really serious here. There was no joking around."
Heitkamp also admitted she had a different approach this year. "Last year was more for fun, while this year was more for business."
When Carr returned from the long jump finals she was also unable to pass over the bar at 11 feet. However, she did not blame the back and forth movement between events.
"Going to the long jump is actually a nice mental break. There is nothing technical in the long jump, just running and jumping."
Carr finished the pole vault in a tie for fourth place thanks to having fewer misses than Heitkamp. When the 12 points Carr earned in her two events were added, Celina was in first place in the team standings at this point during the meet.
Division II girls 300-meter hurdles – Michaela Wenning
Junior Michaela Wenning provided the last three points in Celina's team total with a sixth-place finish in the 300-meter hurdles. Wenning had a new experience of having the girl in the next lane finish the race right beside her.
"I'm not used to that," admitted Wenning. "This is the first time this year I've faced such great competition."
Wenning did manage to beat the girl next to her, Streetsboro's Payton Julian, by one-hundredth of a second. Wenning wanted to emphasize that she was not falling at the finish, just trying to edge out her nearest competitor.
"I got her on the lean," she explained.
Wenning's time of 45.74 was a second and a half better than her regional time, a race where she qualified for the state meet despite falling once.
Division II girls 3,200-meters – Christina Seas and Jill Kanney
The Coldwater duo of junior Christina Seas and senior Jill Kanney finished fourth and eighth, respectively, but each used a different method to reach the awards podium.
Seas had competed in this event twice before, finishing 10th as a freshman and ninth as a sophomore. At the end of the first lap, she was back in 15th place, though she said it was not an intentional strategy to start at the back.
"I think it was just that everyone went out at such a fast pace," theorized Seas. "I figured they would come back to me eventually."
So began the long march back toward the front. Seas passed two runners during her second lap, then five more during the third lap. After five laps she had worked her way into the fifth position and then moved into fourth before the end of the sixth time around the track. Looking ahead at that point she saw three runners who would all finish over 10 seconds ahead of her.
"You try to gain on them, but you know mentally that you are probably not going to catch them," admitted Seas, who ended the in fourth place with a time of 11:19.35.
Kanney, on the other hand, took off with the leaders, running in fourth place after the first lap.
"I seem to run my best when I go out fast," said Kanney. "But I saw my time after 800 meters and it was almost as fast as I run an open 800."
Kanney fell back to seventh after the second lap and then settled into 10th place at the halfway mark. But then she started moving back up through the field, despite a technical difficulty when her shoe lace came untied during the fourth lap.
Kanney reached sixth place with 400 meters remaining and then let one girl pass her on the corner before regaining sixth place.
"I don't like people passing me. My sister says I am a fighter of a runner, not a steady one," said Kanney.
Two runners behind Kanney shot past her in the last 200 meters, but the senior held on for a time of 11:26.78, a new personal record. Kanney took the eighth and last podium spot in the first state track meet of her career.
Division III girls 1,600-meter relay – Minster and Marion Local
The Minster and Marion Local girls took their season-long competition all the way to Columbus. At last week's regional meet, it was the Flyers coming out on top, edging the Wildcats by a mere one-hundredth of a second.
Minster's junior Hannah Barga had run the 1,600 relay last year but was only doing shorter races this season. When she did not qualify for the state meet in her sprint events or shorter relay races, her coach had a proposition. Barga was asked if she would consider joining the 1,600 relay, despite not having run a 400-meter race all year.
"I told her if it would put me in the state track meet, I thought I could," said Barga.
The move paid off as Barga was in first place as she handed off the baton to freshman Julia Slonkosky. At the halfway point, Minster was still in first ahead of second-place Versailles and fourth-place Marion Local. Senior Natalie Fausey, who had been a part of the 2011 championship team and last year's second-place squad, slightly expanded on Minster's lead.
Junior Olivia Enneking tried the bring home the victory, but Versailles would not be denied.
"I knew she (Versailles' Amanda Winner) was going to be right behind me," said Enneking. "It was going to come down to the last 50 meters. It always does."
While claiming their second consecutive second-place finish at the state meet, Minster's foursome finished with a time of 3:59.69, an improvement of 3.5 seconds on the season-best time for the squad and faster than the time the 2011 team.
The Marion Local team of junior Olivia Hemmelgarn, junior Gina Kramer, freshman Rose Berning and sophomore Allie Thobe finished in seventh place with a time of 4:04.09. That was not only the best time of the season for the quartet, but also a new school record.
Hemmelgarn, Kramer and Thobe had all previously been on the podium as a result of their high finishes in field events, but it was an entirely new experience for the freshman member of their squad.
"It is really a privilege to be on a team with them," said Berning of her three teammates. "It made me work harder."
Division III girls 300-meter hurdles – Olivia Enneking
Junior Olivia Enneking had finished the regional meet with only the 15th-best time in the 300-meter hurdles, and thus had few expectations at the state meet. She ran her best time of the year in the preliminaries in order to qualify for Saturday's final race and then set a new personal record time of 46.74 to finish in eighth place to claim the last coveted spot on the podium.
"I didn't think I was going to make it into the finals, but anything can happen once you get this far," said Enneking
Non-podium finishers
Three Minster girls competed Saturday in distance events without finishing in the top eight. Fortunately for them, all three did reach the podium as part of a relay team at some point in the meet.
Freshman Julia Slonkosky finished 12th in the 800 meters, as did freshman Kaci Bornhorst in the 3,200 meters. Meanwhile, senior Natalie Fausey finished in 14th place in the 1,600 meters.