Wednesday, June 12th, 2013
Celina's Zacharias named top local softball player
Parkway's Esselstein is the Coach of the Year
By Ryan Hines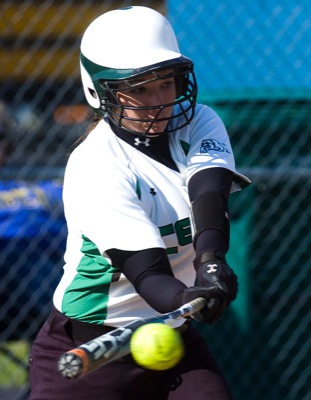 Celina's Alexis Zacharias established herself as the premier local power hitter last season and she continued to produce eye-popping offensive statistics again this year.
Zacharias broke her own school-record for home runs in a season and added to her career home run record en route to being named The Daily Standard's softball Player of the Year for the second straight season. She shared the honor last year with Minster's Hanna Floyd.
Parkway's Mark Esselstein was selected as Coach of the Year for guiding the Panthers (22-6) to the state semifinals and #2 ranking in the final Ohio High School Softball Coaches Association Division IV state poll.
Zacharias burst onto the local scene last year as a freshman and had a magical season by batting .500 with 12 doubles, 11 home runs (school record), 39 runs scored and 55 RBI (school record). Her sophomore season was very comparable with a .516 batting average, eight doubles, five triples, 13 home runs (school record), 37 runs scored and 36 RBI.
"She is very deserving of the honor. I was a little worried about the so-called sophomore slump, but she put up remarkable numbers again this year," said Celina softball head coach Nicole Driggs. "She never put extra pressure on herself to put up the same kind of stats that she had as a freshman and she just went out and had another great year. She has been so consistent the last two years and I'm so glad that she is only a sophomore."
After sharing the honor with Floyd last season, Zacharias admitted repeating by herself this season is gratifying.
"It's really a great honor with all of the good softball players in our area. I have worked really hard and it's nice to be rewarded with this honor again, even more special to have it all to myself this year," said Zacharias, who is also a two-time All-Ohio second team selection in Division II.
While Zacharias' main goal was to sustain a batting average over .500 again this year, it's her power hitting that makes her a special player. Her 13 home runs this year rank tied for sixth all-time in Ohio and her 24 career long balls rank 12th in the state.
"Her bat is something that you don't see very often," said Driggs. "I knew she was going to be a special player, but I didn't know that she was going to be as consistent as she is. Usually power hitters don't have as high as an average as what she has, but she is a well-rounded hitter that can hurt the opposing team in a lot of ways."
Zacharias is 16 home runs short of the state record (40 by Becka Peterson from West Liberty-Salem from 2009-2012) and admits that breaking that record would be special.
"I started out this season not really thinking about home runs, but as the season went along I continued to hit them and broke my own school record," said Zacharias, who tied a state record by hitting three home runs in one game against Kenton. "Breaking the state's career home run record would be great and it's something that I can shoot for for the next couple of years."
Esselstein has seen Zacharias' talents up close the last two years and came away impressed. She hit a bomb to centerfield against Parkway earlier this season.
"She is phenomenal. She's just a sophomore and already has 24 home runs. We've had great players come through Parkway and our career leader is Emily Crowell with 18," said Esselstein. "She is threat to go deep at any time and you breathe a sigh of relief when you get her out. You just don't want to face her with runners on base. A lot of good talent in the area and she is definitely one of the top players."
A disappointing finish to last year's postseason set the stage for this year's state tournament run for Parkway.
The Panthers were trailing 3-2 in the district finals a year ago to Crestview and Parkway had two runners on base with two outs when the Knights' rightfielder (Mackenzie Riggenbach) made a diving catch for the final out of the game.
"During last year's banquet speech after the season, I told the girls that there was no reason we couldn't end this season in Akron," said Esselstein. "We didn't play our best against Crestview last year and I felt we had the team coming back this year that could make the state tourney. That has pretty much been our focus since Riggenbach's diving catch last year.
"We had to replace our shortstop (Taylor Walls), third baseman (Petyon Heitkamp) and centerfielder (Destinee Guggenbiller) but I was confident that we had the girls that could step up and fill those holes," continued Esselstein. "We had kids step up and just built on what we did the previous year."
Parkway had to battle through a 1-3 start to the season, but Esselstein never lost confidence.
"Our opening schedule can be brutal. I don't expect to go through the first few weeks undefeated, especially against WBL (Western Buckeye League) teams and then Antwerp and Crestview before the quad with Archbold and Evergreen," said Esselstein. "We were playing good teams and nobody on the team ever doubted that we would have a good season. We never doubted ourselves. We play a tough schedule to get ready for the MAC (Midwest Athletic Conference) and tournament. We know it will make us better in the long run."
The Panthers rebounded from the tough start and found themselves in contention for a fifth straight MAC championship. A loss to Versailles derailed the title hopes for the Panthers, but they quickly changed their focus to making a postseason run.
"Losing to Versailles was like a punch in the stomach. It took us a few games to fully shake that off, but we were mature enough to refocus," said Esselstein. "We just had to worry about getting better every day and our main goal (postseason) was still in reach."
Parkway finished the regular season by winning 16 of 17 games after losing to Versailles on April 22. The Panthers had momentum on their side to open the postseason and picked up victories over Delphos Jefferson (12-0), Ottoville (12-1), Patrick Henry (10-0), Lincolnview (6-3), New Riegel (7-4) and Edgerton (10-0) to qualify for the state tournament for the third time in school history and for the first time since 1998.
"To do damage in tournament and to make a long run, you need contributions from everybody and that's what we got," said Esselstein. "Our offense really came on as the season progressed and it wasn't just one or two girls. It was a total team effort."
Although Parkway's season ended with an 8-1 loss to Colonel Crawford in the state semifinals, it was a special season for Esselstein and the Panthers.
"It was a great experience getting back to state. There's nothing like a long tournament run to build excitement for the team and community," said Esselstein. "I'm thankful that this group of players got to experience that. They did great things and should be very proud of themselves. Very few teams get the opportunity to play on that stage and we were one of four teams to play at state in our division. A lot for these girls to be proud of."

Dream Team First Team:

C - Callie Vogel, Celina
(.542 avg, 12 doubles, 4 HR, 38 RBI)

1B - Haley Moeller, New Bremen
(.406 avg, 5 triples, 16 runs, 26 RBI)

2B - Kaity Kuhn, Celina
(.466 avg, 33 runs, 9 doubles, 19 RBI)

SS - Catelyn Everhart, New Bremen
(.527 avg, 12 doubles, 31 runs, 26 RBI)

3B - Leah Rose, Celina
(.441 avg, 10 doubles, 31 runs, 17 RBI)

OF - Alexis Zacharias, Celina
(.516 avg, 13 HR, 37 runs, 36 RBI)

OF - Kinzie Kessen, St. Henry
(.531 avg, 22 runs, 4 RBI)

OF - Kayla Walls, Parkway
(.371 avg, 29 runs, 7 RBI)

DH - Marissa Conrad, Minster
(.442 avg, 5 doubles, 30 runs, 23 RBI)

P - Sierra Fent, Parkway
(16-4, 1.64 ERA, 138 K's, 115 1/3 inn)
(.363 avg, 8 HR, 19 runs, 35 RBI)

P - Kayla Richard, Minster
(20-8, 1.94 ERA, 141 K's, 176 2/3 inn)
(.505 avg, 7 triples, 39 runs, 25 RBI)

Dream Team Second Team:

C - Regan Hahn, Minster
(.439 avg, 11 doubles, 15 runs, 32 RBI)

1B - Kylie Snyder, Parkway
(.378 avg, 20 runs, 15 RBI)

2B - Alexis Robinson, Minster
(.453 avg, 4 doubles, 25 runs, 31 RBI)

SS - Kylee Bader, Celina
(.444 avg, 13 doubles, 28 runs, 22 RBI)

3B - Michaela Goettemoeller, Minster
(.391 avg, 7 HR, 23 runs, 35 RBI)

OF - Sarah Hosey, Minster
(.344 avg, 5 doubles, 23 runs, 20 RBI)

OF - Rachel King, Parkway
(.342 avg, 9 doubles, 11 runs, 10 RBI)

OF - Cassie Freeman, Celina
(.333 avg, 5 doubles, 12 runs, 12 RBI)

DH - Jackie Fullenkamp, Fort Recovery
(.429 avg, 8 doubles, 9 runs, 8 RBI)

P - Katie Kerr, Celina
(10-0, 3.03 ERA, 36 K's, 57 2/3 inn)
(.450 avg, 8 doubles, 22 runs, 25 RBI)
P - Kristin Sprague
(13-9, 2.43 ERA, 56 K's, 141 inn)