Wednesday, June 19th, 2013
St. Henry shuts out rival Coldwater, 5-0
Redskins 7-0 against Mercer County teams
By Gary R. Rasberry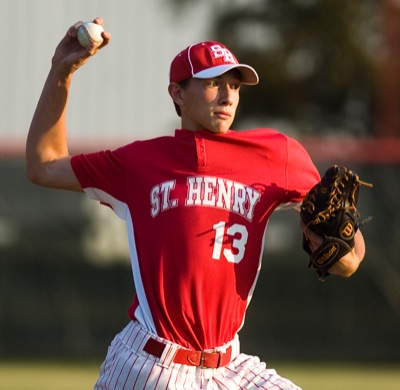 ST. HENRY - A four-run third inning propelled St. Henry to a 5-0 win over Coldwater on Tuesday in ACME baseball action at the Wally Post Athletic Complex.
The Redskins have defeated the rival Cavaliers twice and now stand at 11-1 overall and 7-0 against Mercer County competition. St. Henry is in prime position to grab the top seed in the county tournament that begins at the end of the month in Coldwater. The Cavaliers are now 10-3 overall and 4-2 in county play.
After two scoreless innings, the Redskins got on track offensively in the third inning. Briar Holloman, who was 3-for-4 in the game, singled off Coldwater's Greg Gilliland, Andrew Lundvall drew a walk and Jason Jacobs' infield single loaded the bases. Mitchel Stammen then belted a two-run double over the rightfielder to give St. Henry a 2-0 advantage.
Ryan Mikesell then followed with a two-run double to deep centerfield to give the Redskins a 4-0 lead.
"This is a good team all-around. Solid defense, hit when you want them to and hit regularly," said St. Henry coach Andy Mikesell. "I don't want to say you've come to expect it, but I somewhat have."
"He only had 10 first-pitch strikes," said Coldwater coach Tom Brunswick of Gilliland, who had five walks in the game. "We preach to throw strikes on the first pitch. He struggled (but) he hung (around) and kept us in the game. For us to be successful, he'll need to have better command. We trust next time he will."
The final St. Henry run came from Holloman, who dashed home on a passed ball in the fourth inning.
The Cavaliers only struck out three times with Mikesell on the mound, but St. Henry played errorless defense.
"Ryan is a young pitcher, I think the second youngest on the staff," said coach Mikesell. "He really hasn't been tested. Everyone else has pitched against a solid competitive team. He said he wanted to go against a good team and I said 'Okay, how about Coldwater?' He came out and threw very well. Lived up to the challenge."
Coldwater had a strong chance to break up the shutout in the sixth with the bases loaded, but Mikesell caught Mitch Schoenherr looking at strike three to end the threat.
The Cavs had another scoring opportunity in the seventh. Adam Klosterman led off with a walk - the seventh issued by Mikesell in the game - before Brody Hoying forced him at second on a ground out. Drew Otten doubled for the second time in the game to give the Cavs runners on second and third with one out. Coach Mikesell then called Jacobs to the mound to get out of the jam - albeit in a non-save situation.
Jacobs then sent Malave Bettinger to first base via an intentional walk to load the bases. Mitch Heyne grounded to third, where D.J. Kunkler threw home to force Hoying for the second out. Grant Muhlenkamp then lofted a fly to right, where Heitkamp snagged it to end the game.
"Hitting's contagious, and we've been struggling at the plate the last couple of games," said Brunswick. "The thing is we have to stay aggressive and put some good at-bats together. They had some hits that found the hole and we had some that didn't."
St. Henry is back in action again on Thursday, hosting Marion Local in a doubleheader starting at 6 p.m. The Redskins also have to make up a postponed game with Fort Recovery to wrap up county play. Coldwater hosts Greenville in non-conference action tonight before taking on Celina on Thursday at Veterans Field.