Saturday, June 22nd, 2013
Fired chief fighting for job
Dave Slusser claims he's the victim of a political vendetta
By William Kincaid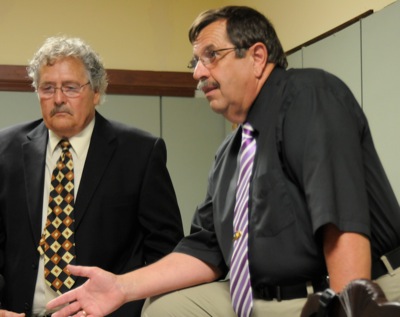 CELINA - Recently terminated police chief Dave Slusser is fighting to get his job back, claiming he is the victim of a political vendetta.
Slusser, accompanied by St. Marys attorney Gregory Wilson on Friday afternoon, revealed he is appealing the city administration's decision to the civil service commission of Celina.
"We only ask that (Slusser) be reinstated and that his name be cleared," Wilson said during a press conference held at the Potter House on Main Street, noting Slusser is not seeking a monetary settlement.
The civil service commission comprised of Matt Gilmore, Denny Smith and Janet Smith is searching for an officer to conduct the hearing that must be scheduled within 30 days, Wilson said.
Wilson hopes the commission reduces Slusser's punishment from a termination to some kind of suspension.
"I stand up to the city administration when I think they're wrong," Slusser said. "I've stood up to them for 22 years. They don't like it. That makes me a problem, and that makes me an easy target."
Wilson claims safety service director Tom Hitchcock and mayor Jeff Hazel abused their power and tried to illegally force Slusser's resignation in violation of civil service statues and threatened him with criminal prosecution.
Hazel was not at the press conference but later issued a statement.
"It is ... entirely false that there was or is any political motivation behind the personnel actions that occurred as a result of complaints to the city administration from the public and employees," Hazel said. "The former chief was placed on administration leave, with pay, for the safety and best interest of the public and several employees that came forward as whistle blowers in their complaints against the former chief."
Slusser, who had been on paid administrative leave since Feb. 14, was terminated effective 5 p.m. June 14 after he was found guilty by Hitchcock of improperly handling evidence, falsifying official time sheets, retaining a pistol he was only to keep for a two-week test and evaluation, failing to properly process an envelope of evidence and leaving sensitive data on computers given to city council members.
"Because of the seriousness of the violations and the damage it has done to the public's trust of the City of Celina Police Department, your employment cannot be continued," Hitchcock wrote in a notice to Slusser.
Slusser will fight all charges.
"Because they're bogus ... the results of his termination are overkill," Wilson said.
This all started with a Prozac pill bottle related to a domestic violence case, according to Wilson, who asked why the officer who handled the case was only given a three-day suspension.
"He (Slusser) really didn't remember because it wasn't his case, and it was basically not meaningful to him," Wilson said.
Asked where the bottle is, Wilson said that information will come out during the civil service commission hearing.
Wilson describes the issuance of additional violations against Slusser as a way to stack the case against him.
"Up until Dave finally said, 'I am not resigning on the threat of that pill charge,' that was the only charge against him," Wilson said. "They gave him a career-ending removal and then started looking for the other things hanging around that they might be able to throw in as fluff."
Slusser was asked about the number of mistakes he allegedly made contained in city documents.
"How would you feel if somebody went to your workplace and dug up everything you did wrong for the last 11 years?" Slusser replied.
Slusser and Wilson also refuted other accusations that resulted in the chief's termination and addressed his decision to waive a predisciplinary hearing.
"I have a guy (Hitchcock) who leads a four-month investigation that from .. the first interview I had with him, he told me he was going to fire me," Slusser said. "So he leads a four-month investigation creating this list of charges and then appoints himself to be the hearing officer to decide whether or not the charges are valid."
Attending the hearing would have been an exercise in futility, Slusser said.
"When the service director was the accuser, the investigator, the prosecutor and the judge, why would we go to that kangaroo court?" Wilson asked.
Slusser said he loved his job, pointing out the long hours, missed holidays, grotesque crime scenes and other difficulties were negated by the toddlers found safe, property recovered intact, justice brought innocent victims and the satisfaction of making a difference.
"For 35 years I have treated this community as it were my own because it is," Slusser said. "I have protected your children as if they were mine to protect because they are. And, I have stood up against those things that I feel are wrong because I took an oath to do the right thing. I am not going to change how I do things now."