Wednesday, June 26th, 2013
St. Henry earns road win at New Bremen
Redskins hold Cardinals scoreless for final four innings
By Gary R. Rasberry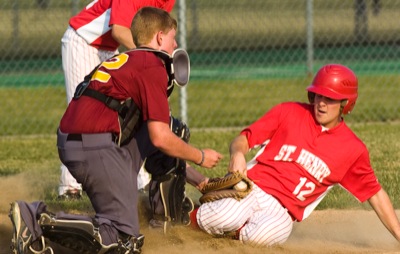 NEW BREMEN - An offensive explosion on both sides in a wild third inning had St. Henry clinging to a one-run lead but the Redskins later scored four unanswered runs to knock off New Bremen 13-8 on Tuesday in ACME baseball action at New Bremen High School.
The Redskins (15-3), trailing 1-0 after two innings, scored nine times in the top of the third off a pair of Cardinal pitches to grab what appeared to be a commanding 9-1 lead. New Bremen (1-11), however, scored seven times in the bottom of the inning and had the tying and go-ahead runs on base before the Redskins got out of the jam.
St. Henry sent 15 batters to the plate in the third. New Bremen's starting pitcher Travis Bertelsen allowed the first eight to reach base safely without recording an out. Briar Holloman, Mitchel Stammen and Brian Kremer each had RBI singles, another run came home on a wild pitch and Cardinals' errors added another run before New Bremen's head coach Eric Nelson called Trey Naylor to the mound. Naylor gave up two more runs before getting out of the inning.
Stammen, who struck out the side in the second after allowing a run in the first, was hampered by four Redskin errors in the third and the Cardinals sent 13 batters to the plate. Nolan Fox, Ty Overman, Troy Siegel, Naylor and Jacob Gilberg each had RBI singles to highlight the seven-run outburst before Stammen got a strikeout to keep the Redskins ahead at 9-8.
"I felt comfortable for a bit," said Redskins coach Brad Heitkamp. "But (New Bremen) was hitting and we couldn't make a play. They kept on us."
"We've strung together some hits (in other games), but nothing like that," said Nelson. "That was a positive."
Jason Jacobs relieved Stammen on the mound in the fourth and shut down the Cardinals for the final four innings, allowing two hits and a walk while striking out four to get the win.
"He was huge," said Heitkamp of Jacobs. "He was what we needed when we needed it."
St. Henry padded its lead with three runs off Naylor in the fifth as Andrew Lundvall and Jacobs had RBI singles. Lundvall added a RBI single in the seventh off Nolan Fox to round out the scoring.
"They hit our guys pretty well," said Nelson. "We had a few walks here and there, but for the most part they earned their hits and runs."
Holloman and Lundvall each had three hits and two RBI for the Redskins while Garrett Stout, Jacobs, Stammen and Kremer contributed two hits apiece.
Fox and Overman each had two hits for New Bremen.
St. Henry wraps up the regular season on Thursday at Elida. New Bremen travels to Versailles tonight before wrapping up Auglaize County ACME play on Thursday at home against Minster.