Friday, June 28th, 2013
Martin gets 18 years
Man admitted to killing his girlfriend in Rockford home
By Margie Wuebker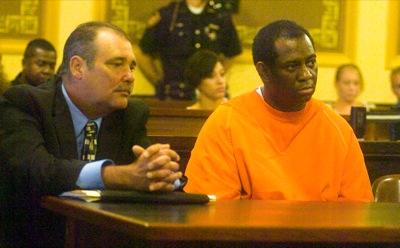 CELINA - Daniel C. Martin apologized to family members of his girlfriend Melinda "Mindi" Shinn Thursday morning before he was sentenced for shooting and killing her Nov. 8 in the Rockford home they shared.
"First, I'm sorry for what happened," he said quietly. "It didn't happen the way they said it did. I hope some day you can forgive me."
Mercer County Common Pleas Court Judge Jeffrey Ingraham imposed 15 years to life in prison on the sole count of murder, to which the defendant pleaded guilty May 24. The accompanying gun specification carries a mandatory three-year sentence. Martin will be eligible for parole in about 18 years.
Martin, 40, sat stoically at the defense table. Neither the prison sentence nor excerpts of letters read by Mercer County Prosecutor Matt Fox elicited any visual response.
Spectators on both sides of the aisle wiped tears as Fox read the handwritten letter of Shinn's son, Braden Etgen.
"I miss my mom so much," the 10-year-old wrote. "We did everything together. We went shopping, we ate out, we went to the fairs together. My mom was a good cook and a hard worker."
He also wrote of the "best times" they had shared - a Cincinnati Reds baseball game, a Cooper Farms employee picnic and a visit to a Kentucky aquarium.
John Etgen admitted he cannot do the things Mindi did for their son, adding "The love a mother has for her child is truly special.
He expressed concern for the boy, who was present in the mobile home at 509 North St. the morning of the shooting.
"My son is scared for life for what Charles did," the letter stated. "He seen things that a child should never see."
Mike Shinn lamented his daughter, who was 26 years old, will never see her son graduate from high school or college and never meet her grandchildren.
"Daniel Martin, in a selfish, angry moment, took everything from her and us," he wrote. "Mindi's life is over and his should be over as well for the act he committed."
Another letter branded Martin a monster who caused so much pain and heartache that no family should have to endure.
Lead defense attorney David Bruns disputed the monster label and said his client took full responsibility for the crime and even pleaded guilty to spare the boy from having to testify in court.
Bruns also said Martin took the boy with him to Fort Wayne, Ind., after the shooting and then made sure he was returned safely to family in Mendon.
"Mr. Martin is not a hopelessly defective person," the attorney added. "He is a faulty person like all of us in this courtroom."
Ingraham granted credit for 176 days Martin hsa served since being returned from Fort Wayne on Jan. 2. He eluded authorities for nearly two months. He was arrested without incident.
Martin looked briefly at his family and waved before being led from the courtroom.
"I hope with today's sentencing Mindi's family and friends can begin to move forward and deal with her loss," Fox said after the sentencing.
Mike Shinn and Carolyn Osborn addressed media outside courtroom, likening the sentencing as the first battle in securing justice for their daughter.
"The second battle will come in 17 1/2 years when Mr. Martin is up for parole," he said. "We will do all in our power to see that he never leaves prison and walks among decent people again. Mindi can't cry out for justice, but we can."