Tuesday, July 2nd, 2013
Flooding reported in the area
More than 3 inches of rain fall near Fort Recovery
By Shelley Grieshop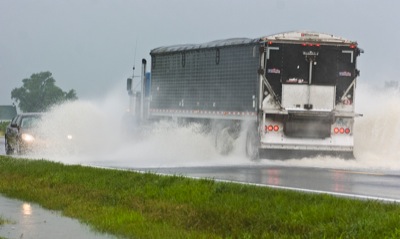 FORT RECOVERY - A heavy downpour of rain Monday morning along the western edge of Mercer County left a state highway flooded and closed to traffic for several hours.
A sudden deluge of more than 3 inches of rain reportedly fell in portions of northern Fort Recovery during mid-morning hours.
"We got a lot of calls about several places on (state Route) 49 where water was running across the roadway," county 911 coordinator Monte Diegel said this morning.
High water signs were immediately posted and no injuries or other problems were reported.
No water issues were reported in Fort Recovery, but some of the areas just outside the village received heavier downpours, according to village fiscal officer Roberta Staugler.
The village's sewer treatment plant was able to handle the influx of storm water without any problems, she said.
The southwest region of rural Celina felt the wrath of heavy rain on Saturday when more than 4 inches fell in a small area in just a few hours. High water signs were posted along state Route 29 and some residents' driveways were left under water.
The sudden cloudbursts in isolated areas appears to be the "norm" lately, local weather forecaster Dennis Howick said.
"A cloud goes through ... and that area just gets dumped on," he said. "A quarter mile away there's nothing."
Howick said the rainy weather pattern that began about 10 days ago doesn't appear to be leaving anytime soon and could dampen Fourth of July festivities.
"I think we're in for more of the same through Sunday," he said, adding the heaviest rains are more likely today. "It sure don't feel like July."
Rainfall in June measured 4.97 inches - up more than an inch above the average of 3.86 inches, he noted.
Howick, a rural Celina farmer, said crops are looking pretty good right now but the forecast of grey skies, clouds and rain has him a bit anxious.
"Now we have to worry about wet weather diseases like fungus and mold," he said, adding some farmers need to get wheat out of fields that are too muddy to enter.
"It's another challenging year but we'll get through it," he said.