Saturday, July 13th, 2013
Cavs, Redskins advance in ACME tourney
ACME District Tournament
By Gary R. Rasberry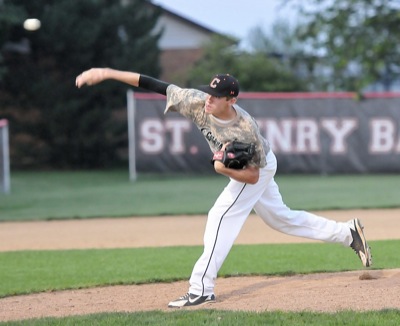 ST. HENRY - Another night, another shutout for Coldwater in the ACME district tournament.
Greg Gilliland and Brandon Kunk combined on a four-hitter as the Cavaliers advanced to the winner's bracket final on Sunday with a 6-0 win over Crestview on Friday at the Wally Post Athletic Complex. Coldwater will face Minster, which defeated Anna 6-1 in action over in Auglaize County.
The other Mercer County team, St. Henry, lost a 5-4 lead to Delphos Jefferson in the bottom of the seventh, but rallied with five runs in the top of the eighth to keep their season alive with a 10-5 win in an elimination game.
The Redskins face Anna this morning at 11 a.m. in another elimination game in St. Henry. The second elimination game will pit St. Marys and Crestview after the Roughriders ended Fort Loramie's season with a 1-0 victory in Minster.
Coldwater 6, Crestview 0
Gilliland started the game on the mound and allowed just three hits and two walks over the first three innings before a knee injury forced Cavs skipper Tom Brunswick to call on Kunk in relief. The Knights had their best chance to dent the scoreboard in the third inning when Gilliland walked two and allowed a base hit to load the bases before striking out Nate Owens to get out of the jam.
Kunk was sharper than Gilliland in his four innings to earn the win. Kunk allowed just one hit in the fourth inning and struck out four as only two Crestview batters made it to first base safely, with no Knights reaching second.
"Gilly was throwing the ball pretty well, then started getting some discomfort in his knee," said Brunswick. "He tried to battle through it, but thought it would be best to make the change. Brandon came in and did what he's been doing all year - throwing strikes, getting ahead of hitters and using his defense."
Coldwater collected just six hits in the game, but made each one count as five of the hits also drove in a run. Blake Spanlger continued his hot hitting of late, going 3-for-3 with a double and two RBI. Malave Bettinger added an RBI double and Derek Thobe had an RBI single and groundout that produced another run.
"The hit total wasn't high, but we got some timely ones," said Brunswick, "Blake's been really hot. We think he's nine for his last nine. We would like to see everyone get hot at one time, but we have enough guys hitting."
St. Henry 10, Delphos Jefferson 5 (8 innings)
The Redskins' Jeff Paul allowed just two hits in five-plus innings but eight walks led to two runs in the first inning for Delphos Jefferson.
St. Henry led 5-2 through the fourth inning before the Wildcats scored two in the fifth to cut their deficit to one. Delphos Jefferson's Nick Fitch was walked to start the sixth and St. Henry coach Andy Mikesell called on Brian Kremer in relief for a second straight game. Kremer struck out the side to end the threat, but ran into two-out trouble in the seventh as Jake Pulford's bloop single scored Hunter Brinkley to tie the game.
"Jeff struggled, obviously," said Mikesell. "I had a feeling he would, coming back from vacation (Paul played his first game of the tournament on Thursday). Everybody's rusty coming back after a long break. Hopefully, he got that out of his system and will be good to go."
The Redskins wasted no time reclaiming the lead. Andrew Lundvall started the eighth inning rally with a one-out double while walks to Mitchel Stammen and Kremer loaded the bases for Austin Bills. Bills was hitless in his first three at-bats but delivered the go-ahead hit as his single to leftfield drove in two runs to give the Redskins a 7-5 advantage. Derek Lange then reached base on a single and an error allowed Kremer to score. After D.J. Kunkler grounded out, Garrett Stout singled in two more runs to put St. Henry on top 10-5.
"We finally started hitting the ball," said Mikesell, referring to the 12 hits for St. Henry. "That's the best we've hit all tournament. ... Obviously, I'm thrilled we started hitting the ball in the eighth and got the win."
Kremer allowed a one-out single in the bottom of the eighth inning, but got the final two outs for the win.
Stout, Briar Holloman, Paul and Lundvall each collected two hits, with Lundvall, Bills and Stout driving in two runs.