Friday, July 19th, 2013
Coldwater baseball honoring two who were close to team
By Gary R. Rasberry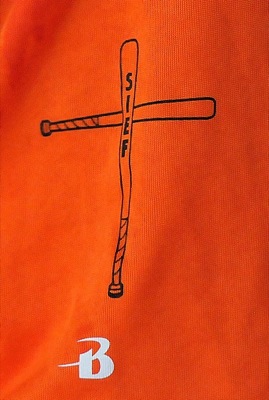 It has been said that an athletic team is very much like a family.
Coldwater's ACME baseball team brings a lot of credence to that thought, especially over the past several months.
The passing of two people with strong ties to the baseball program is being remembered this summer with the Cavaliers literally wearing their remembrance on their sleeves ... and their wrists.
On May 29, shortly before the ACME season started, longtime Coldwater athletic booster Greg Siefring passed away after a battle with cancer. Siefring was a regular fan at Coldwater sporting events, even after his children graduated.
The loss was felt close to the ACME team, as Greg's sons Toby and Troy were both standout baseball players.
"Our community once again sticks up for each other," said Toby, who is the tournament director for this weekend's ACME state tournament at Veterans Field. "We faced some challenging times in the late spring and all through the summer."
The team pays tribute to Greg Siefring on the sleeves of their orange game jerseys, with a design of crossed baseball bats with the nickname "SIEF" printed on one of the bats.
Then, just after the Cavaliers celebrated winning the Mercer County tournament title, tragedy again hit close to the team.
On July 6, Brad "Jeeb" Heyne, a former Cavalier baseball player and brother of current Cavs first baseman Mitch Heyne, was critically injured when diving off a boat and striking his head on a sandbar. He passed away early on July 8.
Brad's viewing took place the first night of the district tournament on July 11. Mitch, who did not play that night, remembers the team coming to the funeral home before the game to pay their respects.
"You can feel everybody coming together, like we're one big family," said Mitch Heyne. "Just seeing everyone go through the line at the viewing really shows how close we are as a team. Everyone's there for me. Every teammate came up and said 'I'm here for you if you need to talk.' We're a good group of friends. Couldn't ask for anything else."
"Everybody came together and helped each other through some difficult times," said Toby Siefring.
Mitch came back to play the next game, just hours after the funeral and scored two runs in a win over Crestview.
By the time the team took the field that Sunday, the team was paying tribute to Jeeb in a poignant and specific way.
Players and coaches were sporting green wristbands with crossed bats and "JEEB" emblazoned over the bats. Green isn't exactly part of the team's usual orange and black scheme, but it was done with a purpose. Green is the color of remembrance for organ donation, which Brad requested be done with organs after he passed.
"He was always there for others," said Mitch of his brother. "He did everything to make everyone happy. He cared about others. It shows we should care about each other."