Tuesday, July 23rd, 2013
Stammen will reign over Lake Festival
By Betty Lawrence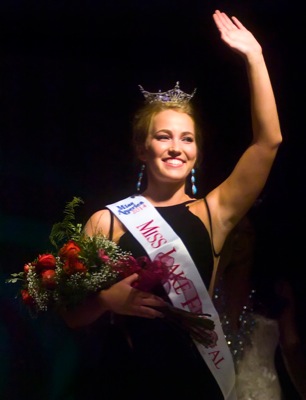 CELINA - Grace Stammen of St. Henry is the 2013 Miss Lake Festival Queen.
Four contestants, the smallest number ever to compete in the annual pageant, took to the stage Monday night in a full evening of competition interspersed with the Miss Outstanding Teen and Princess Camp pageants at Romer's Westlake.
Stammen, 18, is a 2013 graduate of St. Henry High School and is the daughter of Bob and Amy Stammen. She was the first runner-up in the 2012 Miss Lake festival pageant.
Stammen got the crowd going in the talent portion of the pageant by singing a rousing rendition of "Blue Moon Over Kentucky." Talent accounts for 35 percent of a contestant's score. In the evening wear portion (20 percent), she walked across the stage in a long, black gown and in the lifestyle and fitness category (15 percent), she wore a two-piece bright blue swimsuit.
Contestants' responses in private interviews, conducted just prior to the contest, accounted for another 25 percent of their score and the onstage interview was worth 5 percent.
Stammen also was awarded the outstanding talent and interview awards.
Runner-up was Kirsten Fennig, 20, of Celina, who performed a piano solo to "March Wind." She is the daughter of Mike and Sue Fennig.
Her two-piece swimsuit was hot pink and in the evening wear portion she chose a long, sleeveless, red gown with a bodice trimmed in silver.
Queen contestant Julia Folk of Celina, daughter of Shelly (Andy) James and John Folk, received the people's choice award and contestant Jill Kanney of Coldwater, daughter of Bill and Kathy Kanney, was given the commitment to excellence award.
The Celina Lake Festival has always been the largest scholarship pageant in Ohio and this year was no exception, with a total of $14,000 awarded to the contestants in the Miss Lake and Outstanding Teen pageants. The Western Ohio Education Foundation again provided $4,000 in in-kind scholarships to Wright State University-Lake Campus.
The Barbara Wagner Memorial award was presented to Folk at the traditional get-together at Bella's Italian Restaurant after the pageant.
The 2012 Lake Festival queen, Samantha Hartings, crowned Stammen and performed during the evening, along with host Ellen Bryan, Miss Ohio 2011 and Miss Lake Festival 2008. Also entertaining the crowd were the 2012 Outstanding Teen winner Breah Anderson and the 2012 Princess Camp winner Daelynne Mauch.
The queen will reign over the annual Celina Lake Festival which begins Friday.