Monday, July 29th, 2013
Family food stand at the fair 43 years
By Margie Wuebker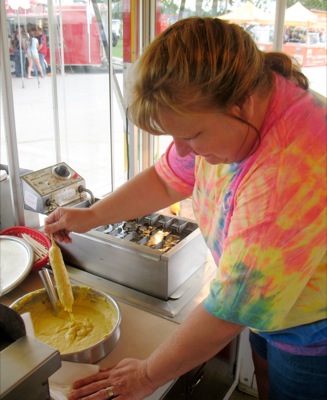 WAPAKONETA - Carol Kowatch drives her motorized scooter along the midway at the Auglaize County Fair heading from her family's french fry stand on one end to the hamburger trailer on the other.
Kowatch, matriarch of Mr. K's Concessions, is no stranger to the annual event.
"This is our 43rd year in business," she said with a smile. "The Auglaize County Fair holds special significance because it is the first fair we ever worked."
The Dublin resident and her husband Ray, who died in 2000, came to Wapakoneta the first time to purchase a french fry stand from longtime concessionaire Bill Guest, who was retiring.
Over the years their operation has grown to include more french fry trailers, Mr. K's Burgers, the Weenie Wagon and a lemonade stand.
"County fairs get in your blood," Kowatch said with a smile. "Our family has grown up in the business. ... Scott was born in April and we headed out on the fair circuit in June that year. He was our good luck charm."
Sons Scott and Craig Kowatch and daughter Lori Jeffries have grown up in the business and don't regret the experience. Now they receive assistance from their spouses and children.
"Working at fairs and festivals is second nature to us," Scott Kowatch said with a chuckle. "After all, we didn't really have a choice."
He remembers meeting a lot of youth whose parents were involved at the fair. In particular, he recalls the daughter of a fair board member showing him an entry point beneath the old grandstand where he watched the fast-paced motorcycle races as a youngster.
"My husband and I watched a lot of local youngsters grow up over the years," Carol Kowatch said. "We've served several generations and some of those folks still come up, say hello and tell us about their families."
All the family's stands will be in operation today through the end of the fair. Craig Kowatch and his wife brought in the last french fry stand late Saturday night following a Tiffin engagement. Everyone works together to make sure fair-goers get the best possible food for their money.
Jeffries dips corn dogs in the Weenie Wagon, where all-beef offerings are on the menu. The weenies, mounted on wood sticks and dipped in a flavorful cornbread batter, are a favorite with all ages and outsell ordinary hot dogs.
"We help each other wherever needed," said Jeffries, an elementary school teacher. "The system works quite well and the secret is we all get along."
She began french fry duties when she was 9 and moved up the ranks from cleaning and serving to cooking and managing. In addition to helping her parents, she also earned spending money for visits to other establishments along the midway.
Scott Kowatch said the operation has changed over the years. The family no longer operates stands offering funnel cakes, elephant ears and cotton candy.
"It is much easier to order ingredients for similar stands than a wide variety of stands," he said. "We don't have a problem staying busy."
Fair manager Fred Piehl said the Kowatch family has a quality operation that has endured more than four decades. He enjoys stopping at their stands for a quick lunch.
"We have quality vendors and a waiting list of people who want to join the ranks," he said. "Our goal is to provide a variety of food from sandwiches and fries to soft-serve ice cream and other desserts."
The Kowatch family has a mission that has withstood the test of time.
"People have only so much money to spend," Carol Kowatch said. "If you don't provide a good product, they won't come back. We are committed to serving the best food possible."

Schedule:
Tonight
• 6:30 p.m. - Class A open horseshoe tournament
• 7 p.m. - District 12 Holstein Show (Show Barn I) and Junior Fair king and queen coronation (grandstand)
• 7:30 p.m. - The Hoppers (gospel tent)
• 7-11 p.m. - Auglaize County pedal pull for children and adults (entertainment tent)
• 7:30 p.m. - cheerleading contest (grandstand)

Tuesday (Senior Citizens Appreciation Day and Kids Day)
• 8 a.m. - Junior Fair rabbit showmanship/show (Show Barn 2)
• 9 a.m. - FCCLA Show (Junior Fair Building) and Junior Fair Market Goat Show (Swine Arena)
• Noon - Junior Fair Dairy Show and Showmanship (Show Barn 1)
• Noon to 4 p.m. - Kids Day on the Farm (Kids Tent)
• 12:30 p.m. - Stevens Puppets (kids tent); 3 and 5 p.m., under the grandstand
• 1 p.m. - comedy juggler/ventriloquist Mike Hemmelgarn (strolling grounds); 4:30 p.m., under the grandstand
• 2 p.m. - 4-H Small Animal Show (Junior Fair Building)
• 4 p.m. - Junior Fair Market Lamb Show (Show Barn 1)