Wednesday, July 31st, 2013
Mariners knocked out of playoffs
By Gary R. Rasberry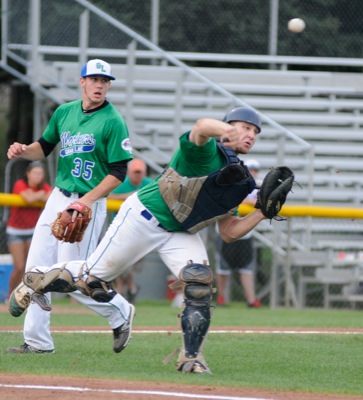 NEWARK - A four-run second inning by Licking County put Grand Lake into an early hole they could not dig out of as the Mariners season came to an end in the first round of the Great Lakes Summer Collegiate League playoffs on Tuesday with a 7-2 loss to the Settlers at Don Edwards Field in Newark.
The Settlers (25-16) will take on Cincinnati in game one of the best-of-three semifinals tonight in Newark before action moves to Cincinnati on Thursday.
Grand Lake, making its first postseason appearance since 2009, ends the summer with a record of 20-21.
"This isn't the ending we wanted," said Mariners manager Cody Castle. "But from where we started the year and to make the playoffs, I'm really proud of these guys."
Jake Baldwin got the start on the mound for Grand Lake and retired the Settlers in order during the first inning. In the second, however, Licking County's offense got started quickly as Vinny Rodriguez and Brandon Kregel led off with singles and Elliot Ashbeck walked to load the bases with no outs. Josh Carpenter plated Rodriguez with an RBI fielder's choice before Baldwin struck out Woody Wallace. However, David Wolak doubled in Ashbeck and Matt Parisi followed with a two-run double that put the Settlers on top 4-0.
Baldwin gave up four runs on five hits in just 1 2/3 innings before being replaced by Luke Mamer.
"It's never the start you want, to be down four runs," said Castle.
Grand Lake tried to get back into the game in the top of the third as Ashford Fulmer and Matt Paculan led off with back-to-back singles against Licking County hurler Michael Danielak. The Mariners pulled to within two runs at 4-2 after Daniel Seeba singled home Fulmer and Paculan scoring when Peter Cuomo grounded into a double play.
"We did a good job batting back in the top of the third," said Castle. "We put some good at-bats together to end up cutting it in half, but just weren't able to handle that."
Licking County regained a four-run lead with two runs in the bottom of the third as Wallace singled in Kregel and Ashbeck. The Settlers added another run in the sixth off J.J. Buckey before Tyler Jordan, Devin Daugherty and Gerardo Dudamel combined to close out of the final two innings.
Danielak scattered six hits over six innings with four strikeouts and was credited with the win. Thomas Olson, Nick Land and Nico Zych each threw an inning of hitless relief to shut down the Mariners.
Paculan and Seeba each finished 2-for-4 at the plate to pace Grand Lake's offense while John Brodner added a double.
Eight of the nine Settlers batters got at least one hit and the only Licking County player to not get a hit, ironically, was league batting champ Ashton Perritt, who went 0-for-4. Kregel, Huber, Carpenter and Wolak each had two hits for Licking County.