Thursday, August 1st, 2013
World's Longest Yard Sale lures bargain hunters
By Tom Millhouse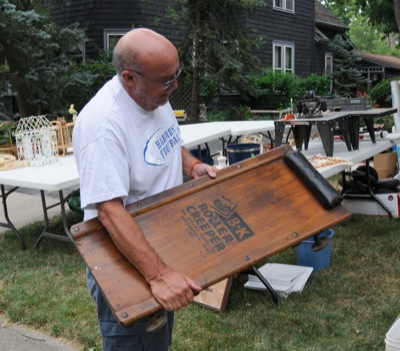 CELINA - While it doesn't have a prestigious designation like the Lincoln Highway and it hasn't been the subject of a popular song like "Get Your Kicks on Route 66," U.S. 127 can make one claim that its more storied counterparts can't - it's the home of the World's Longest Yard Sale.
It's time again for front lawn entrepreneurs from Addison, Mich., to Gadsden, Ala., to attract buyers with an eclectic assortment of goods. The record-setting yard sale stretching more than 690 miles includes many vendors in Celina and elsewhere along the highway that bisects Mercer County.
Officially, the sale begins today and continues through Sunday, but some sales got off to an early start.
Celina operators reported doing a brisk business Wednesday morning.
For Jeff Howison, St. Marys, it was an old mechanic's creeper that caught his eye while browsing through items at Philip and Cheryl Fennig's yard sale on North Main Street (U.S. 127) in Celina. Howison's retirement hobby is taking old items and adapting them for new uses.
"This creeper has some wear on it, but I'll put some legs on it and sell it as an end table," he said, noting his wife will try to sell the item at her booth at Grandma's Attic antique shop in Mount Victory.
"I've been coming to the sales for five years," he said, adding that he wanted to make the rounds early before the crowds arrive later in the week.
Philip Fennig said his family looks forward to the sale every year. Even his 91-year-old mother, Frances Fennig, gets into the act handling money from sales.
"We meet people from all over," he said, noting that past customers have come from New York, New Jersey, Delaware and Michigan.
A few years ago a woman from New Jersey got so wrapped up in buying yard sale goods that she asked for the name of a local car dealer so she would buy a larger vehicle to take her treasures home. "She said, 'I just might have to trade my car for a van,'" he recalled.
His sister, Tiara Roberts, Celina, also is selling items to help raise money for her sister-in-law, Diane Fennig, a cancer survivor.
Frances Fennig said she would like to check out other sales, but she's not able to do much walking, so she helps by taking the money for sales.
"You meet a lot of interesting people," she said.
Another Main Street yard sale operator, Chris York, said over the past five years he has had customers from Canada, the East Coast and California. York, who operates the sale with Brad Roediger, Celina, said they specialize in collectibles and antiques.
"We try to have unusual items," he said.
Among the people who traveled a great distance for the sale was Roy McMahon, Caledonia, Ontario, Canada.
McMahon said he didn't make the trip just for the 127 yard sale, but he had heard of the event, so he got off I-75 and drove to Celina to check it out. McMahon said he enjoyed the side trip on his way to a church homecoming in Festus, Mo., this weekend.
Local shoppers also are hunting for bargains and unusual finds.
Lloyd and Lori Goodwin, Celina, spent time Wednesday looking over the wares of vendors at Lake Shore Park.
"Today's my wife's birthday, so I asked her what she wanted to do, so we came to the sales," Goodwin said, after chipping $2 off the cost of a Harley-Davidson engine tray.
For Peg Muhlenkamp, Coldwater, visiting a yard sale in Celina was sort of a trip down memory lane. She purchased an Ohio State football cup from the team's 1968 national championship team with a photo of legendary coach Woody Hayes on the side.
"That's the year I graduated from high school," noting that Celina High School graduate Jim Otis was on the OSU championship team.
Ed Gutman, Botkins, said he was looking for Coca-Cola and NASCAR collectibles. Although he's not making the trip this year, he has traveled as far as Chattanooga, Tenn., on U.S. 127 following the long line of sales.
The U.S. 127 yard sale is an annual boost for the local economy, according to Pam Buschur, executive director of the Celina-Mercer County Chamber of Commerce. Buschur said she recently received calls from out-of-state people who planned to stay in Celina during their trek.
"People stay here, they buy gas and eat at local restaurants," she said of the ripple effect of the event.
The U.S. 127 yard sale has been around for decades, but Buschur said it's only been in Ohio for the past several years. A group of chamber and visitors bureau leaders joined forces to bring the sale to the Buckeye State, a move that has yielded dividends for communities along the highway.
"It started out slow, but it has really blossomed," she said.
According to the event's website, the sale began in 1987; Jamestown, Tenn., serves as the headquarters.
Mike Walker, former Fentress County (Tennessee) executive, has been given credit for the idea of having a giant sale. His plan was to lure travelers off the busy interstates to the less traveled highways of Tennessee and Kentucky. Over the years, the sales spread north and south.
For more information about the event, visit www.127sale.com.