Friday, August 2nd, 2013
After long break, archers still shooting straight
A pair of St. Marys natives performed well at the National Senior Games
By Gary R. Rasberry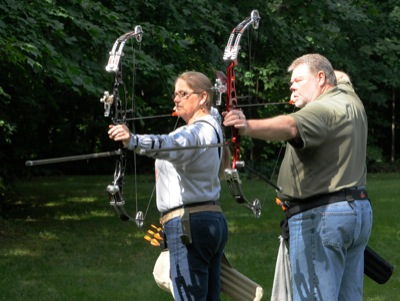 AUGLAIZE COUNTY - Some married couples take up golf. Others play tennis, run or ride bikes.
For John and Linda Klosterman, the bond is the pull of the bow string and the flight of an arrow.
The Klosterman's have been getting back into competitive archery after a long break, and so far, it's like they never left.
Linda Klosterman won her age group in Compound Release at the National Senior Games held in mid-July at Cleveland. John Klosterman also did well, finishing fifth in his age group.
Archery has been a part of the rural St. Marys couple's lives for years. John took up competitive archery in the 1970s and was state champion in 1980 and 1981. Linda also competed at a high level and held several world records.
But in the 1990s, both got away from the sport, leaving their bows and arrows in storage.
"We shot pretty consistently through the 1980s," said John Klosterman. "I got a podium finish at the Nationals in 1986. Kind of left the game in the early 1990s. (Linda) continued to keep shooting."
It took a young neighbor who was interested in archery to get their competitive juices flowing again a year or two ago.
"He wanted a little coaching and for John to show him how to tune (the bow), stuff like that," said Linda.
"After he came for part of the summer, (Linda) said she wondered if her bow would still shoot," said John. "She got her stuff out and a couple weeks later, I got mine out. Our competitive nature took back over."
Now that they had the gear back out, finding places to compete and train became the next project.
"Years ago, you used to be able to shoot target archery (using the paper targets), not 3-D archery (animal models) within 50-70 miles every weekend, almost all year round," said Linda. "You can't do that anymore. You have to go a little further."
"It took a year to get the concentration and stuff working again," said Linda. "It's not there all the time, yet. Not as well as I shot 20 years ago, but I'm seeing days where I feel like I used to feel when I was shooting regularly."
The bows used today are radically different than the ones they used in their earlier competitive days, but as John said, "You still have to hold it and aim it. It's not going to do the job for you."
In fact, the arrows that Linda uses are over 25 years old. "I shot over in Columbus the last two years and they always put me with the teenage girls and boys. My arrows are older than the kids I'm shooting with," quipped Linda. "But I shoot all right."
The couple started competing in leagues at Big Bucks out at Niekamp's on U.S. 127 and at the the Shelby County Deer Hunters range in Sidney.
Last year, they heard about the National Senior Games, which is held every two years.
"We just found out about it last summer," said Linda, while John chimed in "They just started advertising and we thought 'Well?' "
Continued Linda: "A few of the other people we were shooting with were going and asked 'Are we going?' I was thinking 'What is the Senior Games?' I looked into it."
After qualifying in the Compound Release Division, the pair made the trek to Northeast Ohio to compete. John shot in the men's 60-64 age division, while Linda competed in the Women's 55-59 bracket.
"There was close to 350 archers in all divisions (Barebow compound, Barebow Recurve, Compound Fingers and Compound Release)," said Linda.
Linda braved the rain and wind and was on pace to set a world record before finishing with a score of 1,445, which not only was the highest score among the female shooters, but also topped all of the male archers as well.
"I was ahead of the other women in my class that was shooting pretty good by 10 points. The next day it got terribly windy. Then I pulled ahead of everybody: all of the women and all of men," said Linda. "It's good to beat the women, but it's great to beat the men. You hate to boast like that, but it tickled me silly to beat the men. Women typically do not beat all the men within the age group."
"It's a shame she didn't get a chance to set the new record," said John. "I think she was definitely on the pace to do it. One of the distances (archers compete at 60, 50 and 40 yards during competition) had weather issues the first day and didn't get a complete round in. Her score was 12 points under the record at that time."
John was happy with his fifth-place showing in his age group.
"I didn't know what to expect," said John. "I kind of went in with lowered expectations. After the first day I didn't expect to be where I was at."
John admits now that while the mental game is still there, the body sometimes is not willing. Fluid on the elbow made it tough to take a couple shots at the target.
"The mind knows what you should be doing," said John. "The body says 'I ain't going to do it today.' "
As for the future, the Klosterman's are thinking about the 2015 Senior Games, which will be held in Minneapolis and St. Paul, Minnesota.
The trek to the Twin Cities would be nothing new for the couple.
"We traveled years ago all over," said John. "East coast to the west coast. We shot in Seattle, Atlantic City and everywhere in between."