Saturday, August 3rd, 2013
No heat! Sweet!
Cool summer good news for some businesses
By Eric Adams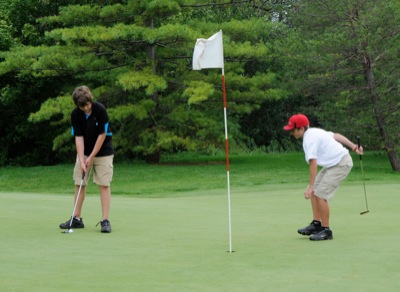 CELINA - Hot and dry conditions typically mean more dips of ice-cream as well as dips in the public swimming pool. Less often considered are uncharacteristic dips in the mercury, such as those experienced during recent weeks.
Perhaps the greatest beneficiaries of unseasonably mild weather are landscaping providers such as Dues Nursery in Celina, where business is blooming.
"With the cooler weather things have been a lot nicer, and greener," said nursery manager Pat Frederick. "Bushes are needing trimmed a second time around with this moisture; we've had a lot of repeat business."
Frederick reported that mild weather has also been a boon to the Dues lawn care division. This is especially good news, because it means a recovery from last summer's drought-like conditions.
"This time last year, we were actually sending people home," he said. "We're busy every day now and still working strong, looking to go all the way through November."
The Elks Golf Course in Celina also is reaping benefits from the lack of heat. General manager Kirk Stucke said early afternoons have been busier, with business as a whole slightly improved from 2012.
For Stucke and his patrons, these conditions are a welcome change from the searing days of early July.
"We had one really hot week, and some of those early afternoon hours were (very poorly attended)," said Stucke.
He was referring to the week after July 4, during which temperatures routinely exceeded 90 degrees and heat indexes soared. The following weeks have ushered in greater numbers, he said, with highs only in the low 80s.
Area forecaster Dennis Howick said the average low temperature in July was 63 degrees, just 0.5 degree shy of the 20-year average.
More conspicuous was the average high, which was 4.2 degrees lower than its 20-year counterpart at 80.6. The greatest outliers was the record-low 49 degrees logged on July 27.
Such lows means less air conditioning. Comparative data from Celina suggests residents may be using heir cooling units less this year. Cumulative power usage statistics showed a monthly total of 19,807,308 kWh for June 2012 and 18,522,862 kWh for June 2013. Statistics for July 2013 were not yet available.
Meanwhile, typical summertime mainstays such as the Bryson Memorial Swimming Pool have not fared well this season.
Management at the pool reported "dramatically lower" attendance this year, both among season pass holders and those paying for the day.
Non-opening days, on which fewer than 30 swimmers arrive within the first half-hour, have also been more prevalent. This was attributed both to sporadic precipitation and sagging temperatures.