Tuesday, August 6th, 2013
Ex-teacher's trial on sex charges begins
By Daily Standard Staff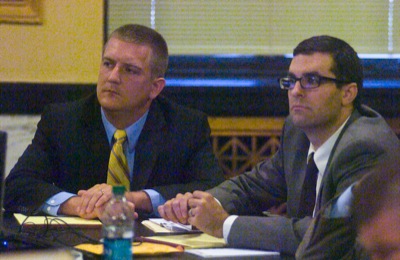 By MARGIE WUEBKER
and ERIC ADAMS
newsdept@dailystandard.com

CELINA - A Fort Recovery-area mother wept on the witness stand this morning in Mercer County Common Pleas Court as she testified in the trial of the 33-year-old man accused of sexually assaulting her daughter.
Christopher Summers, 671 Woodland Ave., St. Henry, faces 47 counts that include felonious assault, rape and sexual imposition. His jury trial began Monday.
The state's first witness spoke about her fears and suspicions related to the former Fort Recovery High School accounting teacher and girls junior varsity basketball coach.
Those suspicions began in the spring of 2010 when her teenage daughter began baby-sitting for Summers' young daughter and son, she said. The girl later accompanied several couples, including Summers and his wife Lori, on a vacation to Myrtle Beach, S.C., she explained. Her assignment was to baby-sit for the children while the adults went out, the mother noted.
During the ensuing months there were times when the teenager went to open gym activities and basketball practice, even though she had been sidelined with an injury, she testified.
"She would not always come home when she should have," the mother said, clutching a tissue.
The woman testified on two occasions that she and an older daughter went to school and each time there were just two cars in the parking lot - the teenager's and Mr. Summers'.
She later noticed phone records showing messaging from Summers or his wife at all hours of the day and night. She said she had their numbers blocked. She and her husband also no longer allowed their daughter to baby-sit or have any contact with Summers' family, she said.
Her testimony was ongoing at press time today.
During opening statements Monday afternoon, attorneys painted two highly contrastive pictures of the relationship between Summers and the former student.
The prosecution contended that for a period of 28 months Summers led the student, now 19 and a freshman at Ball State University, on a path of manipulation rife with sexual assault and physical and mental abuse.
Prosecuting attorney Matt Fox boldly opened the state's remarks by reading what allegedly were text messages Summers had sent to the alleged victim. These included ominous sentiments such as "last straw ... if it takes my whole life, I will ruin you" and "I don't want to live without you ... come on, before it's too late."
Fox said Monday that Summers sent 175 messages to the alleged victim between Nov. 5 and 6; she made initial contact with the Mercer County Sheriff's department on Nov. 5.
Summers allegedly sent pictures to the woman of her boyfriend's house, held her head underwater in a bathtub and carved the initial of his first name on her ankle using a knife, Fox said.
Defense attorney Paul Howell said during his opening statement that the state would be unable to provide concrete evidence of its allegations. Howell said the sexual relationship between Summers and the woman, though adulterous, was entirely consensual and began only after she had graduated from Fort Recovery.
"You will find that, after she graduated, they entered into a voluntary, consensual, passionate love affair where they agreed to meet at hotels, his house, and have adulterous sex," he said.
According to Howell, case evidence will show the only reason the woman approached the Mercer County Sheriff's department in November is that she had been caught in the affair and did not want her own name besmirched. Thus, she allegedly fabricated the story that Summers had sexually coerced her since July 2010, the attorney said.
"That's how she could say, 'I had no part in this. Mr. Summers made me do this,'" said Howell.
He did not deny the relationship between Summers and the woman had been inappropriate and admitted witnesses from the school would be able to confirm this.
"(Their relationship) wasn't appropriate; it got too close, no doubt about it," Howell said. "Mr. Summers got too involved as ... basketball coach, as a track coach, as a teacher ... there was a lot of communication back and forth."
But Howell said the testimony from Summers' co-workers would fall short of proving any criminal or sexual activity.
"There is no physical evidence that proves at all that there was any sexual activity prior to the time she graduated," he said. "In fact, the one significant thing about this case is the lack of evidence."