Wednesday, August 7th, 2013
Taking the mound
Minster's Jacob Albers gets chance to deliver game ball before Tuesday's Cincinnati Reds' game against Oakland
By Robb Hemmelgarn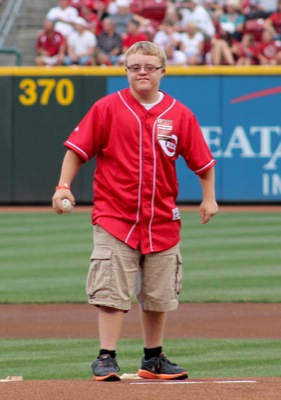 CINCINNATI - The opening round of the fifth and sixth grade softball tournament wasn't looking so spectacular for Lindsey Albers and her Minster teammates a few weeks ago in Maria Stein. They sailed through the regular season unbeaten but were suddenly in a five-run hole late in the game against St. Marys - a deficit that loomed larger with each passing inning and the threat of either rain or darkness directly overhead.
As Lindsey shuffled her feet in the dirt at third base and her teammates started hanging their hands, her big brother Jacob clutched the outside fence just over her shoulder. The score didn't matter to him, nor did the girls' sub-par play or the prospect of elimination. Jacob cheered, danced, and chanted while flashing his trademark smile that could be detected from 50 yards away.
"No matter what team I am on, Jacob is always there to support me and root me and my teammates on," Lindsey remarked. "It makes me feel really good to see how my teammates accept him for who he is and treat him like he is really a part of our team."
With five younger brothers and sisters playing baseball and softball, Jacob has brought bundles of charisma to countless games through the years, always generating a breath of genuine excitement on nearly every pitch.
Born with Down syndrome, Jacob may never play regularly on an organized baseball team or league of his own, but it hasn't curbed his enthusiasm for the sport whatsoever.
"Jacob ran track this year at Minster and was the biggest cheerleader for his teammates, and when he ran his event they were all there cheering him on as well," explained his mom, Dina. "When they were cheering and clapping, it sent chills down my spine. He finished last every time, but in his eyes he won every meet. It would be nice if we all caught his attitude - it's not always about winning, but rather being a part of a team."
A few weeks ago, Jacob watched his favorite team, the Cincinnati Reds, on television and when he noticed the bat boy - Teddy Kramer - during that particular game had Down syndrome.
Jacob was intrigued.
"When he saw that, he was very curious and kept asking me to call because he wanted to do it," Dina remarked. "I emailed the Reds and they responded that they don't let anyone do this under normal circumstances because of the requirements that go with the job, but they offered to let Jacob bring the game ball out to the pitcher's mound before the game. His brothers and sisters are so excited for him and just as excited to get to go to a Reds game!"
Since then, Jacob ritualistically marked off the days until his time in the spotlight last evening.
"He was so excited when I read him the email from the Reds and immediately began to ask how many days until the game," his mom smiled. "Every morning when he woke up, he asked if that was the day. He obviously loves all sports and will sit in the stands all day long and watch anything from baseball to football to basketball, but I think he would say his favorite sport is baseball."
When Jacob and his family emerged from the tunnel adjacent to the visitor's dugout last night, he was in complete awe as they stepped on to the dirt of Great American Ball Park.
"He is absolutely in heaven," Dina smiled while Jacob posed for a quick picture on the scoreboard with Reds mascots Rosie Red and Gapper. "He has been soaking everything in from the minute we arrived. He thinks he is going to throw out the first pitch though, and we keep telling him that all he has to do is set the ball down on the mound and come back!"
Just then, Jacob jogged toward the hill and situated the ball directly in front of the pitching rubber to the rousing cheers of close to 33,000 people. When he was finished, he walked past several Oakland A's who grinned and offered knuckles to him for a fist bump only to be ignored. I asked Jacob if he had something against the A's and the soon-to-be-junior offered some pretty basic reasoning.
"I am a Reds fan and those aren't the Reds," said Jacob.
He then unleashed a smile you could see from the upper deck.