Monday, August 12th, 2013
Wiener dogs race, chickens fly at the fair
By Margie Wuebker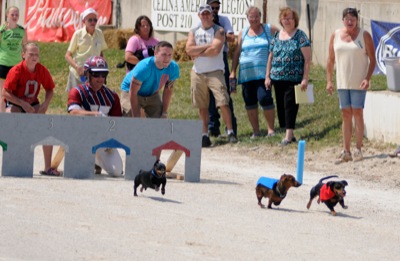 CELINA - Where can you see wiener dogs race and chickens fly on a warm Sunday afternoon?
The answer is the Mercer County Fair - the same place you go to see livestock, enjoy amusement rides and savor corn dogs, sugar waffles and lemon shakeups.
Organizers did not know what to expect for the first-time wiener dog derby, but the field of 10 likely ensures the competition will be back in 2014, according to committee members.
Snoop, a 6-year-old dachshund entered by siblings Lance and Larisa Orick of Celina, eyed the competition from a shady place near the speed office and bided his time until four heats of harness racing were in the books.
The canine is no stranger to trotting down the dirt track; Larisa's mother, Dawn Orick, prefers to call Snoop's demeanor "showboating."
Fresh from a practice run through a makeshift course set up in the living room, he cleared the gate quickly. With Larissa cheering from behind and Dawn waving a strip of jerky, he had a tasty incentive. Placing first in the heat proved to be icing on the cake.
Tyler and Jessalyn Slusser of Celina entered 4-year-old Shadow in the competition. Described as a "fetch-aholic," he enjoys chasing things and returning them to his owners as fast as his short legs can carry him.
"This is his first race so we don't know what to expect," Tyler Slusser said. "Our other two dachshunds (Romeo and Flash) get too distracted by other dogs so we're putting all our hopes on Shadow."
Chasity and Colton Pace of Celina had high hopes for 4-year-old Sophia, who couldn't wait to embark on the course. She claimed top honors in her heat with nary a victory bark.
"She's playful and she likes to run, so we signed her up," Chasity said with a smile. "She took off and left everybody else in the dust."
Molly McGee, entered by Jim and Denise Selhorst, thought she had the racing idea down pat after some initial practice. However, the best laid plans of dachshunds sometimes go astray.
Other dogs yipping excitedly did not bother her in the least. When they headed toward the finish line, she made a wide look and ran the other way. Upon returning to Jim Selhorst behind the gate, she stood at his knee, tail wagging and begging for a treat.
"She ran her version of a race," he admitted with a chuckle. "Even if she went the wrong way."
The crowd on hand for the harness races cheered for the long-bodied, short-legged dogs with many indicating the race was a nice break before horses and sulkies returned to the track for more action.
Chicken flying drew a considerably smaller crowd across the fairgrounds, but the entrants and their feathered friends did not seem to mind in the least.
Leandra Conner of Celina brought Chester, a pristine white Brahma with a penchant for people food, particularly burritos.
"We initially called the bird Chester until she started laying eggs," said Leandra's mother, Joy Conner. "Now she goes by Chesterito."
Poultry committee member Pat Schmitt placed the clucking competitor in a white box atop a stepladder while the Conners' hoped for the best.
Schmitt opened the door on one side of the cage and Chesterito stuck out her beak and decided this was not a day for flying. With a gentle nudge on her backside, she headed for the ground with the least amount of wing flapping.
Allie Springer of St. Marys cradled her black leghorn, aptly named Blackie, and offered what onlookers considered a pep talk.
"I told her she has to fly and fly far," the little girl said with a giggle. "If she does good, she gets a treat, and if she doesn't, she becomes chicken nuggets."
The small bird apparently took the words to heart and flew, saving her drumsticks in the process.
Springer pocketed first-place and grand champion honors, vowing to find the best chicken nuggets at the fairgrounds. Friends and relatives eagerly volunteered to come along on the condition she picked up the tab.
Briana Schmitt didn't expect to win but she thought for sure her Bovan Brown would put on a show instead of amassing virtually no distance. The hen offered little competition when it came to flying any distance from her overhead perch. She flapped her wings once and plummeted to the grass below.
"I guess she's more concerned with laying eggs," she said matter-of-factly. "After all that's what chickens do."