Monday, August 19th, 2013
Amateur tops the pro bowlers
Lefeld Implement Classic
By Gary R. Rasberry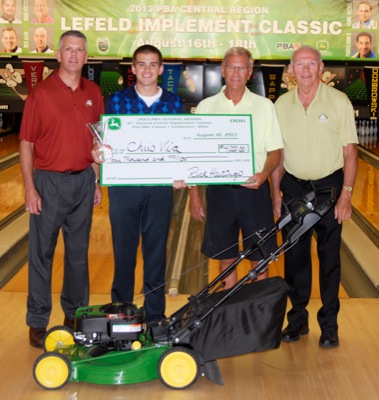 COLDWATER - Chris Via saved his best for last during the Lefeld Implement Classic.
The Notre Dame College senior narrowly reached the final four by 18 pins and then had close contests in his first two games of the stepladder final.
But in the championship round, Via turned it on, winning his first PBA Regional title with a 235-204 triumph over Eugene McCune on Sunday at Pla-Mor Lanes in Coldwater.
Via becomes the first amateur to win the tournament and receives the $4,000 winner's check and John Deere walk-behind mower that comes with the title.
"I was looking at the field before I bowled and I knew it was going to be a tough field," said Via, who was part of two state championships in high school at Kenton Ridge before heading to northeast Ohio for college. "I just stayed within myself, got as many pins as I could through the day. I knew, with the low-scoring pace, it would be a grind. I just tried and made each and every cut."
Via came through Saturday's qualifying in the seventh spot. After the first round of elimination matches, Via was up to fourth as the field was cut from 32 to 16. He was fifth as it came down to eight bowlers for the final round of semifinal play. Via needed to make up 28 pins in the final two games of action to make the top four and reach the finals and edge the 2009 Lefeld Implement champ Chris Loschetter.
Via, using a two-handed throwing style, battled back and fourth with E.J. Tackett. Via was able to get enough pins to take the game 218-213 before moving on to face second-seeded Brian LeClair.
Via appeared to be in trouble when he rolled a split in the sixth frame and could not earn a spare. LeClair, however, split in the eighth and left it open. Via came up for his eighth frame and threw a strike and then added another in the ninth. LeClair threw a strike in the ninth but in the 10th frame left two pins up on his first throw. Needing a spare, LeClair could manage just one pin to end the frame. Via rolled a seven on his first ball of the 10th, but he easily picked up the spare to clinch the 192-180 win.
"I've been starting slow through every game of the tournament," said Via. "Fortunately, I had luck in the later half of games to make up for it."
In the final, there was no slow start for Via. McCune, a three-time winner on the PBA National Tour, threw three straight spares to start his match, while Via rolled strike-strike-spare to start his game. Via had strikes on four of his first five frames.
"I just wanted to make two really good shots to start the game," said Via, who was first team All-American this year after leading Notre Dame College to the national collegiate tournament. "I did it, so it put a little bit of pressure on (McCune).'
McCune had a scare in his fifth frame when his first throw resulted in a 4-7-10 split, which could have hampered his comeback chances. McCune, though, got a pin on the left to cross over and tap the 10 pin to pick up the spare.
Over the the next four frames, each bowler had two strikes and two spares leading to the 10th. Via clinched the title with two strikes on his first two throws of the 10th, while McCune had a strike and a nine.
Via, like many of the bowlers who come back year after year, felt at home in Coldwater.
"It's unreal," said Via. "From the first minute I stepped in here, I felt welcomed. I felt like I've been bowling (here) all my life. They do so much for the bowlers here."
None of the Mercer County bowlers were able to advance to Sunday's action. Wapakoneta bowler Todd Book just missed making it to the final eight, finishing ninth and collecting $750 in earnings.
McCune collected $2,200 for second place, with LeClair and Tackett garnering checks for $1,650 and $1,400, respectively.