Thursday, August 22nd, 2013
Restored Helter Skelter is real blast from the past
Vintage craft to appear at governor's regatta
By Gary R. Rasberry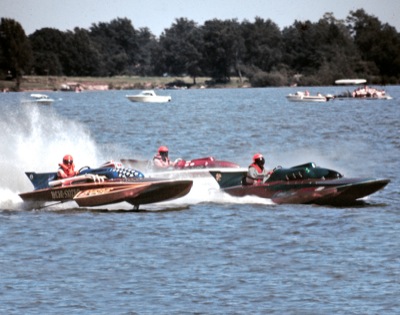 GRAND LAKE - It's been 45 years since The Beatles wrote "Helter Skelter" on their self-titled White Album. It's been almost as long as a hydroplane boat bearing the same name has raced on Grand Lake.
At this weekend's Governor's Cup Regatta, Helter Skelter will make its return as part of the Vintage Boat class.
It's a comeback that's amazing, considering just a couple of years ago the boat was stored in a garage in Michigan as part of an estate sale.
The history of the boat is truly a local one. Built in the Neptune shop of the late Jim Cunningham, Helter Skelter was driven by Phil Kunz in a variety of hydroplane races, including the Governor's Cup in the 1960s and 1970s.
After flipping the boat at one event and the advent of newer technology - rear-engines and canopies over the cockpit - it was difficult for older, front-engine boats to compete. Kunz sold the boat, which was raced for a couple more years before its location became lost to its original driver.
"I found out later that some people bought it and turned it into a pleasure boat, probably the fastest pleasure boat on their lake," Kunz said. "I still didn't know anything about it. It was in Michigan, that's all I knew."
A message from a colleague three years agoreunited Kunz and Helter Skelter.
"I got an email from a racer friend of mine," said Kunz via telephone. "He sent me pictures of a boat in a storage area in Michigan. He couldn't identify it. I'm a historian and know all the different boat designs, who built them and which part of the country it came from. I looked at the pictures closely and went 'Holy smokes! That's my old boat.' I got back with him and he went over, bought it for me and brought it back to Detroit where he lived."
With less than half of the boat's original wood usable, it took almost a year-and-a-half for Helter Skelter to be sea-worthy.
"I took it to a friend of mine in Chillicothe who does restoration," Kunz said. "He restored it for me. He did a beautiful job. Looks as perfect as it did when I first picked it up at Jim Cunningham's."
Cunningham's widow, Rebecca "Jane" Cunningham, got a call from Kunz about the reunion.
"He sent me a picture," said Jane Cunningham, who still lives in the area.
The boat - which ran in what was then the 280 Class and became the 5 Litre division - has been on the water during vintage events in Dayton; Wheeling, W.Va., and Rocky Fort in Hillsboro.
"I've run it about 14 heats," Kunz said. "At Dayton, it's a real short course and I got it up to 80.5 (miles per hour). I know on a full-size race course it can go 100 without any problem.
"I go to the Vintage regattas somewhere close to Dayton and have fairly smooth water," said Kunz. "I'm not into traveling all over the country. I'm too old for that."
Minster resident Ron Snyder, a veteran hydroplane racer who has driven such legendary boats like "Miss Madison" and "Miss Budwiser," has driven Helter Skelter at some events.
"It's a neat boat to drive, that's for sure," Snyder said. "... I think it's faster. That's for sure. The guy who put it back together for him is a heckuva boat builder.
"I told Phil if I had this boat back when I was driving small boats, I'd won championships with it, too. He got a kick out of it. ... It's a good running boat."
Helter Skelter will not be the only vintage boat taking to Grand Lake. The Jim Cunningham Memorial Invitational, named for the local boat maker, is run during the weekend. Snyder is the driver's representative of the Vintage Class and will be driving a boat or two.
"As far as I know, it's the only Jim Cunningham boat running anymore," Snyder said of Helter Skelter. "There's another one around, but it's up in New York somewhere."
Jane Cunningham has mixed emotions about seeing the boat again on Grand Lake.
"It's going to be hard for me, since Jim's passed away," she said. "It will be neat to see that boat out there running."
Kunz said he may hop into the boat to give it a whirl.
"I might take it out once," he said. "I'm not sure."