Friday, August 23rd, 2013
Bulldogs shut out Cavaliers
Carr scores twice in Celina's victory
By Gary R. Rasberry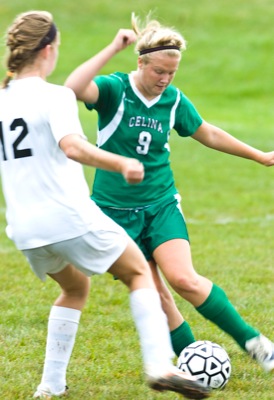 COLDWATER - A soggy field didn't hinder Celina's offense as the Bulldogs scored twice in the first half and then wore down Coldwater throughout the second half before scoring two more in the final 10 1/2 minutes for a 4-0 victory over the Cavaliers on Thursday at Village Hall Field.
"Considering the weather conditions and field conditions, it was good," said Celina coach Calvin Freeman, a reference to the storm that prompted a delay in junior varsity warmups and led to the varsity game being started first so it could be played before dark. "It was good to see goals come in, even though we had too many missed shots and opportunities (Celina outshot Coldwater 15-4). We have to capitalize more on those."
Coldwater's defense frustrated Celina early on but Bekah Carr put the Bulldogs on top after nearly 12 minutes had been played when she blasted a shot past Alanna Severt for the first goal of the match.
Eighteen minutes passed before Carr picked up her second goal to give the Bulldogs a 2-0 lead at halftime.
Celina held an 8-2 advantage in corner kicks but was unable to capitalize as Severt made three of her four saves in the second half.
However, in the final 10:27 of the game the Bulldogs were able to wear down Coldwater and scored twice. Heather Heiby scored with 10:27 left in the game, and with just under six minutes remaining on the clock, Elyssa Sheriff hit the back of the net for a goal.
"I thought Celina played great and our kids probably played as well as they could against them," said Cavaliers coach Scott Brinkman. "They're probably at a level higher than we are skill-wise. Our kids just played as hard as they could. In the last 10 minutes you can see we ran out of gas."
"Give credit to Coldwater. They did a nice job," said Freeman. "They played well and played hard. I like how they play. There's just no quit in them."
Callie Vogel needed to make just three saves as Celina's goalie.
Kendall Gilmore scored to help Celina's junior varsity pick up a 1-0 win in a game shortened because of darkness.