Saturday, August 24th, 2013
Adoption process weaves together blended Mercer County family
By Shelley Grieshop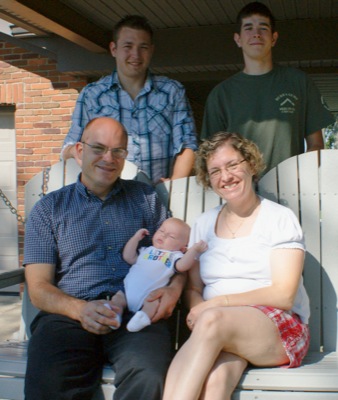 MERCER COUNTY - Ten-week-old John Wiechart waved his tiny arms and yawned while snuggled in the arms of his big brother, Reggie.
The age difference between the pair - 24 years - can't break the bond or the one that exists between the infant and his other big brother, 20-year-old Jordan.
"I thought it would be more awkward ... until I met him," Reggie said.
Although the young men aren't biologically related to the adopted newborn, they affectionately call him their "little brother" and can't wait to show him the ropes.
"I'm a big sports guy so I'll be playing sports with him. I'll also be talking to him about following dad's rules," Reggie said, flashing a big grin at his father, Jim, whom adopted him 16 years ago.
The Wiechart family is anything but traditional but they are living proof adoption can bring joy.
Jim and his wife of four years, Kit, have no biological children. The Mercer County engineer married Reggie and Jordan's mother in 1995 and formally adopted the boys two years later.
Jim divorced in 2006 but maintains a strong relationship with the boys he raised.
"I've always called him Dad," Reggie said. "It was a natural thing."
Jordan agreed.
"I was only about 4. I never knew any different. He's my Dad," he said.
In 2009, Jim married Kit, a math teacher at Celina Intermediate School. When the couple encountered fertility problems, they contacted Faithful Adoption Consultants. They currently are in the process of officially adopting John, who was born June 6 in Florida.
Jim, 42, and Kit, 45, believe the adoption process has helped weave their family together.
"People who don't live in the world of adoption see it as black and white," Jim said, adding their family is proof the process can lead to a very positive outcome.
Approximately 1,400 children were adopted in Ohio last year. According to the state Department of Job and Family Services, more than 3,200 boys and girls of all ages are available for adoption each year.
Several meetings with John's biological parents before and after his birth left the local couple with mixed emotions, Jim said.
"We know they love him," he said. "This has to be like a death to them, a mourning."
Jim said some of the meetings were awkward because he and his wife felt they were "taking this couple's baby away." The birth parents helped put them at ease, they said.
"The father said thank-you to us more than once," Kit said.
Jim and Kit initially weren't sure how their college kids would respond to the idea of becoming big brothers.
"When we decided to do this we talked to the boys first," Kit said. "Both of them were supportive. They would send text messages asking how it was going, how we felt."
Reggie, who attends The Ohio State University branch in Lima, appeared at Wiechart's Spencerville-area home soon after John arrived from Florida. The musical bumble bee toy he brought as a gift seems to be the little guy's favorite, Kit said.
"It's almost like he knows his big brother bought it for him," she added.