Saturday, August 31st, 2013
Bulldogs pull off dramatic win
Celina scores winning TD with 1:08 remaining
By Ryan Hines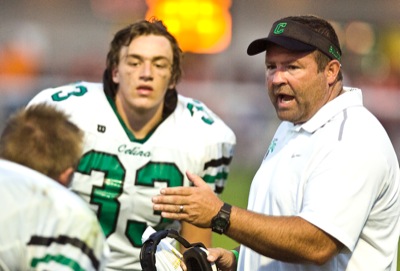 VERSAILLES - A late Caleb Hoyng touchdown pass and a defensive stand in the closing seconds helped make Trent Temple's debut as Celina's interim football coach a success.
Hoyng hooked up with Mason Ross on a 17-yard touchdown strike to complete a fourth-quarter comeback and Celina edged Versailles 25-19 on Friday night at Hole Field.
"So proud of the kids for the way they battled. We talk all the time about being a family and we picked each other up when things were down," said Temple. "There were several times when things didn't go our way, but our kids never hung their heads and just kept battling back and got the win."
Versailles erased a 17-13 deficit when Nick Campbell hit Damien Richard on a 15-yard, jump-ball touchdown pass with 4:13 remaining in the fourth quarter. Richard missed the ensuing PAT kick and Versailles led 19-17.
Celina began the game-winning drive on its own 17-yard line and a 22-yard Hoyng pass to Sean Kirk pushed the Bulldogs near midfield. After fumbling a shotgun snap on second down, Hoyng and the Bulldogs were facing a third-and-13 from their own 46-yard line when Hinders caught a back-side screen pass and raced 18 yards for a Celina first down.
"The play was rodeo jailbreak. I got the ball into the hands of one of our playmakers and Jack made a play to get the first down," said Hoyng.
"It's the toughest play to defend in football in my opinion because it's like having two screens on opposite sides of the field," said Temple. "Caleb is sprinting one way and he stops and threw a nice pass to Jack, who raced for a first down in a big situation."
Louden Limon then rushed for two yards and Hoyng connected with Hinders on a nine-yard pass before Limon rumbled for eight yards to leave the Bulldogs with a second-and-two situation on the Versailles 17-yard line.
Hoyng took the snap, Ross broke loose down the right sideline and the Bulldogs' sophomore QB hit the senior wideout in stride for a 17-yard score with 1:08 remaining in the game.
"They flooded the area on that play with three receivers. Two guys were shallow and then they sent the Ross kid down the sideline and our safety just didn't get there in time," said Versailles head coach AdDam Miller.
It was the first career touchdown pass for Hoyng, who finished his first career start by completing 25-of-29 passes for 302 yards.
Hoyng then hit Limon on a short pass on the two-point conversion and Celina was in front 25-19.
Versailles began its final drive from its own 26-yard line and Campbell quickly had the Tigers on the move against Celina's conservative prevent defense. Campbell and Mitchell Gigandet connected on a 22-yard pass and another nine-yard hookup to push the Tigers to midfield with 42 seconds left on the clock.
Campbell then hit Jace Barga for a 12-yard gain and connected with Richard on an 11-yard pass to push the Tigers to Celina's 17-yard line with just six seconds remaining in the game.
Celina then called timeout and inserted Ross (6-foot-3) and Stefan Chittum (6-2) into the game as first-time defensive backs to help defend the 6-3 Richard for a possible jump-ball scenario.
Sure enough, Campbell dropped back to pass and eluded a Celina pass rusher before lofting a pass toward Richard in the end zone. Celina had three defenders covering Richard, who slipped in the end zone, and Celina knocked the ball away as the scoreboard clock hit zero.
"We wanted to put some taller guys in there because we have some shorter defensive backs and Versailles has some tall and athletic receivers. They had no clue what they were doing, but we just told them to try and go get the ball when it was in the air," said Temple. "He (Campbell) made a wobbly pass because we got some pressure on him and we were able to knock the ball down. We had a guy jamming Richard at the line of scrimmage and guys rotating over top."
"We had three options on the play, kind of similar to the play just before halftime when we scored. Just hoping that there was a second left on the clock when the ball hit the ground but it was already at zero," said Miller.
Braelen Bader rushed the ball 10 times for just 39 yards but scored two touchdowns and added three receptions for 30 yards while booting two PATs and a field goal.
Bader's one-yard TD run at the 7:04 mark of the first quarter gave Celina a 7-0 lead, but Gigandet raced 31 yards up the middle untouched for a scorre with 4:43 remaining in the opening stanza to close the gap to 7-6 after Richard missed the first of two PAT kicks.
Gigandet then put Versailles on top when he hauled in a 20-yard TD pass from Campbell with no time left on the clock prior to halftime to give the Tigers a 13-7 advantage. Hinders appeared to have an interception with eight seconds left in the second quarter but a teammate's pass interference penalty negated the pick and gave the Tigers one more crack at the end zone and they cashed in on the opportunity.
Celina closed the deficit to 13-10 after Bader's 22-yard field goal at the 4:27 mark of the third quarter and Bader's six-yard TD run with 6:02 left in the fourth quarter gave Celina a brief 17-13 lead.
Campbell, who was All-Ohio as a sophomore two years ago, completed just 11-of-26 passes for 176 yards with two touchdowns and two interceptions (Hinders and Andy Garwood). He also led Versailles in rushing with 76 yards on 15 carries.
Celina opens Western Buckeye League action next Friday with a road trip to Lima to face the Lima Bath Wildcats.