Friday, September 6th, 2013
Bulldogs power past Roughriders 5-0
By Gary R. Rasberry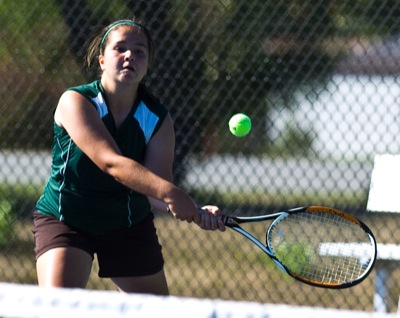 ST. MARYS - Two days after seeing a five-year winning streak in the Western Buckeye League snapped, Celina's girls tennis team has won two straight matches.
After dispatching Ottawa-Glandorf on Wednesday, the Bulldogs won all their matches in two sets while beating St. Marys 5-0 at the Memorial High School Tennis Courts on Thursday.
Celina improves to 5-1 in league matches and St. Marys drops to 1-4 in the WBL.
The Grand Lake rivals have become quite familiar with each other over the first half of the season, having faced off at invitationals in Lima and Tipp City before Thursday's league match.
Celina coach Jan Morrison could see the improvement in the Roughriders' players from earlier encounters.
"This is the third time we've seen them. They have improved every time," said Morrison. "They're an improving team. I thought they played us a lot tougher than when we saw them Saturday."
While the scores didn't quite show it, St. Marys tested Celina in some of the matches with only one 6-0 score being recorded by the Bulldogs.
At first singles, Kalie Gardner had a battle with Anna Ernst before her 6-4, 6-3 win. Sasha Jenkins dueled with Abby Wilker at second singles before coming away with the 6-1, 6-4 victory and Brooke Sutter earned 6-3, 6-0 triumph over Hannah Felver at third singles.
In doubles, Celina's Sabrina Smith and Leah Zuercher won their opening first doubles set over Avarie Ellis and Jennifer Lauth 6-1, but in the second set, the Roughriders' tandem were close to tying the set before the Bulldogs' pair emerged victorious, 6-4.
Celina had a little easier time at second doubles, as Maddy Cline and Nicole Elston won 6-1, 6-1 over Jenna Perry and Bailey Rust.
"They're keeping the ball in play," said Morrison of St. Marys. "The good news is, they only graduate one senior and we graduate five. I'm glad to get the win. St. Marys played well."
St. Marys coach Brice Brenneman was pleased with the effort his netters showed against Celina.
"Most of the positions, we were more competitive than (at Lima and Tipp City)," said Brenneman. "I really was pleased. I thought all three singles gave a good account of themselves. First doubles did a good job getting back in the second set and made it competitive. Second doubles struggled, but they've been coming along. Overall, I really wasn't disappointed."
Both teams have Saturday action as Celina travels to Elida for invitational play while St. Marys will take on Lima Senior in a nonconference dual. Both teams go back to league play on Monday as Celina travels to Defiance and St. Marys heads to Elida.