Tuesday, September 10th, 2013
New Coldwater 'officer' on the beat
By Eric Adams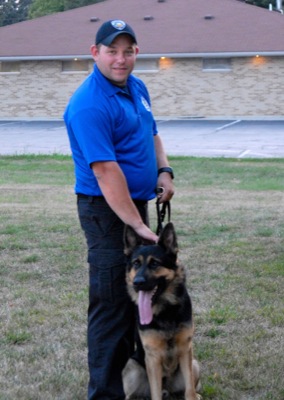 COLDWATER - Sgt. Kyle Dues introduced "Vargo" to village council members Monday evening, a German shepherd K-9 officer brought onboard to combat a growing drug problem in the village.
Chief Jason Miller said 50 drug-related incidents have been documented in Coldwater so far this year, 19 of which are felonious. This compares to 33 total incidents in 2012, during which only one felony charge was documented.
Council approved the K-9 addition at its previous meeting, making Coldwater the second municipality in Mercer County after Celina to do so. The Mercer County Sheriff's Office suspended its K-9 program last summer after the death of the department's second German shepherd in two years.
Dues will be the dog's only handler and already has begun teaching it basic commands. In addition to following orders, Dues said one of his greatest training tasks will be preparing Vargo to restrain himself.
"If he goes and bites somebody when that person stops resisting, he's got to stop," Dues said. "He has to be able to know that on his own, and that takes a lot."
Roughly six weeks of training remain for the canine, a process being handled by Von der Haus Gill German Shepherds near Wapakoneta. Vargo currently is learning to differentiate between illegal drug odors.
"(Gill) is probably one of the number one handlers in the nation," Dues said, adding that the U.S. Drug Enforcement Administration has received K-9 officers and training from the regional provider.
The total cost of the dog was unknown, but Dues said the expense is being handled exclusively through donations from local businesses and non-profit groups. Vargo is slated to graduate from training in late October.