Friday, September 13th, 2013
Celina cruises past Wapakoneta
Bulldogs earn third straight shutout win
By Ryan Hines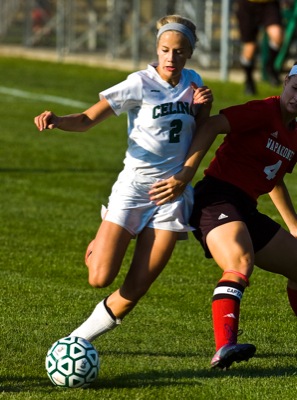 CELINA - The Celina girls soccer team is on quite a roll right now.
After posting back-to-back 13-0 shutouts over Defiance and Greenville, Celina made it three straight wins on Thursday by roaring past Wapakoneta with a 5-0 triumph in Western Buckeye League action.
Celina took control of the match early on with a pair of goals in the first 6:10 of play.
At the 35:18 mark it was Bekah Carr lofting a high crossing pass to Caelyn Reineke for a goal and an early 1-0 Bulldogs' lead.
Just 88 seconds later the Bulldogs went on top 2-0 when Reineke's corner kick was deflected to Jenna Berry in front of the net and she beat Wapakoneta goalkeeper Mikayla Halfhill for a goal.
"Anytime that you can get up a goal right away and then add another one pretty quickly after, it can be an emotional letdown for the opposing team," said Celina head coach Cal Freeman. "It's starting to happen for us and the girls are starting to see what it takes for our offense to get on track."
The Bulldogs' offense struck again at the 9:59 mark of the first half when Carr stole the ball near midfield and delivered a long pass to Elyssa Sheriff, who took one dribble and then blasted the ball into the back of the net.
"Whenever you come to Celina, you know that they are going to score goals because they are one of the premier programs in the WBL," said Wapakoneta head coach Ross Kantner. "It took the wind out of the kids for them to score twice early and three times total in the first half."
Holding a commanding 3-0 lead, Celina's offense wasn't satisfied and had four early shots on goal in the second half before cashing in again. At the 18:21 mark it was Carr booting a crossing pass that was collected by Emily Jackson and she slipped one past Halfhill for a 4-0 Celina lead.
Carr's speed was an asset for Celina throughout the match as she weaved in-and-out of Wapakoneta's midfield and had three assists.
"She has great speed and it allows her to be able to create offense for her and others. She had several good passes tonight that ended up in goals for us and she also made some great plays on defense as well. She's seeing the field very well right now," said Freeman.
Celina then capped the scoring with just 3:49 remaining in the game when Reineke's shot on goal deflected off a diving Halfhill before Holli Brackman deposited the rebound into the back of the net.
"We attacked all the way up til the end of the game and it was nice to see five different girls score for us," said Freeman. "Balance is huge for us and it's nice to not have all the eggs in one basket. We have several girls that can put the ball in the back of the net when given the opportunity. Our girls are staying in their lanes and creating scoring opportunities and then converting them when we get the chance."
Celina's defense was also solid throughout the game limiting Wapakoneta to nine shots on goal with Bulldogs' goalkeeper Callie Vogel making four saves.
"Proud of how our defense played again tonight," said Freeman. "We limited their scoring chances and didn't panic when they had opportunities."
Celina is now 3-1-3 overall and 2-0-2 in the WBL while Wapakoneta slips to 6-3-0 (1-3-0 WBL). Celina, St. Marys (3-0-1 WBL) and Shawnee (3-0-1 WBL) are the lone unbeatens remaining in league play after the Roughriders' 2-1 win over Bath on Thursday.
"The WBL is wide open right now. O-G and Bath both have a loss now and that leaves us, Shawnee and St. Marys as the only teams without a loss in league play," said Freeman. "There will be some great battles throughout the rest of the season in a league that has proven to be very balanced."

WBL Girls Soccer Standings:
Team WBL Overall
W L T W L T
St. Marys 3 0 1 5 2 1
Shawnee 3 0 1 4 2 2
Elida 3 1 0 5 2 0
Celina 2 0 2 3 1 3
Bath 2 1 1 4 2 1
Ottawa-Glandorf 2 1 1 6 1 2
Van Wert 1 3 0 1 5 1
Defiance 0 4 0 0 8 0
Kenton 0 4 0 1 7 0