Monday, September 16th, 2013
Bowman takes top spot
Jordan Moeller Memorial Golf Tournament
By Gary R. Rasberry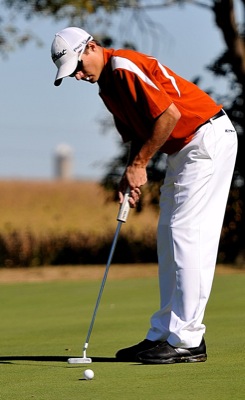 CARTHEGENA - It was a great battle on Saturday morning at the Mercer County Elks for the individual and team championships at the Jordan Moeller Memorial boys golf tournament.
On the individual side, St. Marys' Carter Bowman and Parkway's Brian Schatzer played in the same threesome and were tied at 1-under with four holes remaining.
Bowman had a birdie down the stretch and finished with a 2-under 70 to win the championship while Schatzer finished as the runner-up with an even-par 72.
"He played really well today, and that made me want to play better," said Bowman of Schatzer. "Just wants to make you play to your potential.
"My last hole, he left it short of the green and I went right for the pin and birdied the hole."
"We were going back and forth a little bit (in the standings)," said Schatzer. "It was a lot of fun. He (Bowman) is a really nice guy. I liked playing with him a lot.
"Seventy-two is a good round. I'll take it. I did have two double bogeys that got to me. ... I made some birdie putts and saved a few. He (Bowman) was just one better than me today," added Schatzer.
Versailles' Ryan Knapke was third with a 74 and Celina's Kaleb Kuhn finished fourth with a 78. St. Henry's Alex Evers shared fifth-place honors with Anna's Mike Omlor after both shot a 79.
In the team standings, one stroke separated the top two teams as Midwest Athletic Conference co-leader Versailles edged Celina 327-328 with Parkway landing third with a 331.
"We played well. Versailles came in with a great score," said Celina coach Bret Baucher. "I was proud of the boys. They played well."
St. Henry finished fourth with a 340 and St. Marys was fifth at 347. The rest of the standings for local schools had Fort Recovery in 10th (360), New Bremen 12th (365), Marion Local 14th (381), Coldwater 15th (385) and New Knoxville 16th (411).
In addition to Kuhn's fourth-place finish for Celina, Ryan Miller shot an 81, David Jenkins an 82 and Stephen Fleck an 87.
Jordan Bollenbacher added an 82 for Parkway, with Connor Morton shooting 83 and Austen Stukey 94.
St. Henry, which had four players post career-best scores, got an 83 from Brian Kremer, and 84 from Jason Jacobs and 94 from Mitch Dorner.
St. Marys received an 84 from Collin Burke, a 96 from Hunter McMurray and a 97 from Kyle Kiefer.
Fort Recovery was led by Elijah Kahlig's 82 while Kent Retz carded a 92 with Chase Bruns and Derek Backs each shooting a 93.
New Bremen was led by Alex Britton's 85. Travis Bertelsen shot an 88 with Zach Hegemier carding a 91.
Marion Local was led by Adam Kremer and Luke Knapke's matching 93s while Collin Fleck added a 97.
Coldwater was paced by Tyler Kanney's 86 and matching 97s from Mitch Diller and Josh Scott.